11 thousand exhibitors from 186 countries participating in ITB Berlin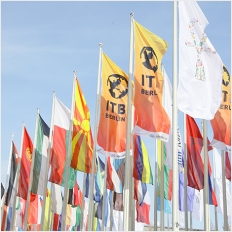 Berlin :The Maldives and the world's largest travel trade show have signed a contract sealing their partnership in 2016. The Maldives expects that the partnership with ITB Berlin will attract a visitor increase of around eight per cent.
Next year this island paradise will be the partner country of the world's largest travel trade show. Preparations for the rise in tourist numbers are going apace. New resorts including the new Thumburi project will provide additional accommodation for holidaymakers in the mid-range price segment. As of December 2015 Lufthansa will be flying once a week from Frankfurt to Malé on the largest island in the Maldives.
ITB Berlin is the leading trade fair for the worldwide travel industry.More than 10,096 exhibitors from 186 countries are participating in the ITB this year .Debut for the World Legacy Awards with National Geographic , first Buyer Seller Speed Dating event , buyers and international exhibitors , large increases in numbers from Asia, India and the Arab countries ,LGBT Travel, Adventure & Sustainable Travel and Travel Technology are the main attractions of ITB Berlin .
Exhibitors paticipation is very high in the 49th edition of ITB Berlin . From 4 to 8 March 2015, on a display area covering 26 halls, 10,096 exhibitors from 186 countries will be offering visitors a representative overview of travel products and services from around the world and of growth-intensive niche markets.
More than two-thirds of the exhibitors showcasing their products and services in the 26 halls on the Berlin Exhibition Grounds are from abroad.
Overall, more than 100,000 trade visitors are expected to attend the world's largest travel trade show. On the weekend members of the general public will be able to book their holidays directly with exhibitors.
The focus is on Mongolia, the official partner country of the show.
This year, in partnership with National Geographic and for the first time, ITB Berlin will present the World Legacy Awards in recognition of sustainable tourism projects.
According to Dr. Christian Göke, CEO of Messe Berlin GmbH: "ITB Berlin is a strong marketplace and provides the international travel industry with an ideal platform for negotiating and doing business. In turbulent times and against the backdrop of a weak euro and uncertainty in the wake of terrorism and worldwide conflicts this is a particularly valuable and important aspect."
In 2014, according to estimates by Messe Berlin, business concluded by exhibitors amounted to 6.5 billion euros. "This year we have continued to expand the already well-established ITB Buyers Circle and will be holding the first Buyer Seller Speed Dating event in an aim to give exhibitors' business an extra sales boost. Furthermore, the ITB Convention will be debating all the important industry topics. The industry's largest convention is an indispensable knowledge platform that highlights best practices as well as exclusive survey results and the latest tourism topics", Christian Göke added.
March 5, 2015