Mountaineering challenges discussed at CIMA 2015 ,Spain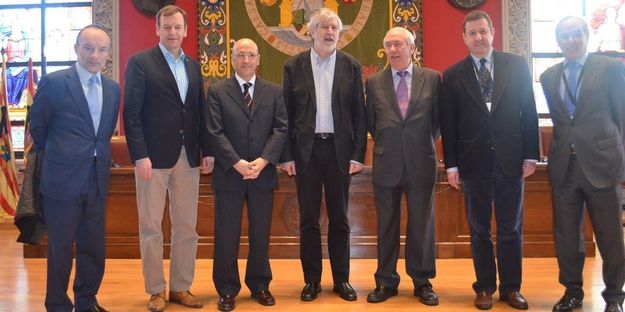 Zaragoza : More than 300 people gathered in Zaragoza, Spain to attend a unique congress, CIMA 2015, which brought together key actors and institutions to discuss the challenges of mountaineering in the XXI century.
The congress organized on 26-28 March 2015, was also the venue of the UIAA Management Committee meeting. It was organized by UIAA member, the Spanish Federation of Mountaineering and Climbing (FEDME) in collaboration with the Aragonese Mountaineering Federation.
During various sessions ,congress participants discussed five key themes: mountaineering as a sport, its relationship with the environment, society, economic development and issues related to safety and health.
UIAA president Frits Vrijandt who spoke at the opening ceremony said climbers and mountaineers are "one big family that extends throughout the world, such is the camaraderie between them."
Vrijlandt said the main goal for all climbers and mountaineers is to enjoy the beauty of the mountains, be environmentally sustainable and ensure the safety of climbers and mountaineers." He also said it is vital to create more protected mountain areas, which does not mean closing it to the public but to create awareness about the need to respect these open areas that allow different activities.
"This conference aims to respond to the challenges of mountaineering in the XXI century and for that we have voices from different countries of the world and all sectors related to the mountain, sport, health and safety, sociology, economic development, "said Luis Masgrau, president of the Aragonese Federation of Mountain and vice-president of FEDME.
The opening ceremony was followed by the inaugural conference session which featured Basque mountaineer Alex Txikon who spoke about his attempt on Nanga Parbat (8,125 m). Others who spoke included elite athletes such as Olympic Victor Lobo and Alberto Ilurrategui.
Many of the speaking panels included representatives of the UIAA – Intenational Climbing and Mountaineering Federation such as former Youth Commission president Anne Arran, Steve Long, chair of the UIAA Training Standards Panel, UIAA Honorary Member Ang Tshering Sherpa and Vrijlandt.
Other panels included Ian Corless, president of the Association of Mountain Racing UK and a member of the Committee on Communication and Image of the ISF (International Federation of mountain races or 'skyrunning.'
Corless said there are about 600,000 athletes from 65 countries who are involved in skyrunning.
"It is a big sport and growing, we have national, continental and world championships. This sport creates an incredible passion, from first to last all are 'skyrunners' and we can see her tears, her passion, something like in other sports, but it gives us something more, "said Corless.
Another panel discussed the impact on rural societies because of mountaineering activities. UIAA Executive Board member Giorgio Olivetti, director of the Club Alpino Italiano (CAI), described how his club started activities to promote development structures in mountain environments. The club pioneered marking trails as well as cross-border collaboration for the use of the network of old roads recovered in order to boost the rural economy.
Olivetti said this enormous task, the result of collaboration between resulted in an increase of visitors to the mountains, a network of network of shelters run by the CAI to provide support for climbers and tourists.- UIAA
March 2015