NATO commits to promote and develop Nepali tourism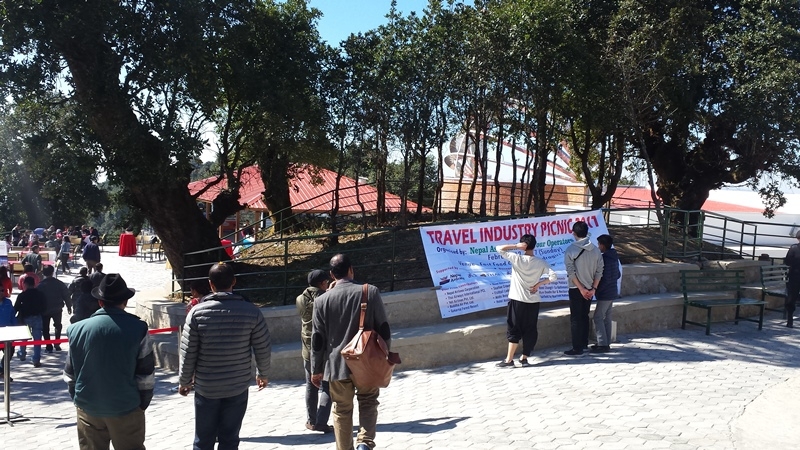 TravelBizNews Reporter —
Kathmandu: The Nepal Association of Tour Operators (NATO) organized its annual Travel Industry Picnic at Chandragiri Hills, Chandragiri.
"The event is much-awaited fixture in the Nepali tourism industry calendar and provides an important and informal forum for the travel trade stakeholders in Nepal to share ideas and develop better relationships," says Ashok Pokharel , President of NATO.
"NATO is committed to promote and develop Nepali tourism and is ready to undertake any task that helps in strengthening Nepal's economy as a whole and the tourism sector in particular," Pokharel added.
Around 300 personalities, including NATO members, government officials and travel trade professionals participated in the travel event.
Chandragiri Hill, 16 kilometres from downtown Kathmandu, lies on the South-West of Kathmandu Valley and is 2551 metres from sea level.
Soaring peaks and breath taking views of Kathmandu Valley covered with lush green blanket of flora makes Chandragiri a bountiful and pristine landscape.
Domestic and foreign tourists visit Chandragiri to see panoramic views of Kathmandu Valley and Himalayan ranges from Annapurna to Mt. Everest.
Chandragiri Hills Company operates cable car services at Chandragiri .The single length of cable car is 2.5 kms and the top station of the cable car is located at 2520 meter above sea level.
Chadragiri Hills cable car service is the latest tourism attraction and product built in Kathmandu valley.
February 13 , 2017