NATTA elects new Executive Committee, Acharya elected President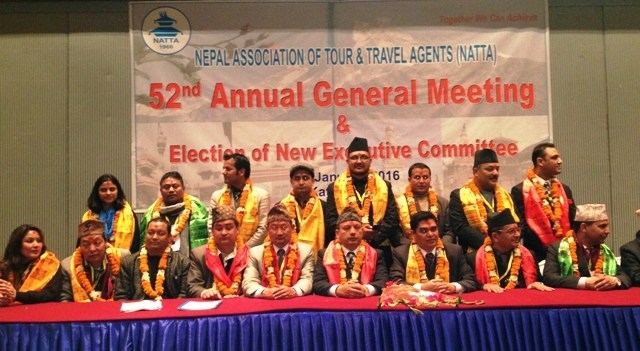 TravelBizNews —
Kathmandu: The 52nd Annual General Meeting of Nepal Association of Tour and Travel Agents (NATTA) has elected a new executive committee with Madhusudan Acharya as the President for two years.
Acharya's panel made a clean sweep, winning all 15 posts in the new executive committee. A total of 432 NATTA members cast votes in the election out of 454 members.
The other two panels were led by senior tourism entrepreneurs Shambhu Raj Pathak and Ms. Mihika Dhakhwa in the election for new leadership of NATTA.
Likewise, NATTA AGM elected C.N.Pandey as 1st vice President, DK Sharma as second vice president, Bhim Prasad Panta as General Secretary, Sudhir Kumar Upadhyaya as Secretary, Chitra Bahadur Gurung as Treasurer and Sabita Bhattarai K.C. as Joint Treasurer.
Senior travel entrepreneurs Binay Basnet , Hari Bhakta Shrestha, Ms. Shital Sharma Poudel, Yubaraj Subedi, Laxman Lamsal , Varun Mehta, Ram Kumar Barakoti And Ghanshyam Ghimire are elected members in the new executive committee.
Earlier, Secretary of Ministry of Culture, Tourism and Civil Aviation (MoCTCA) Dinesh Kumar Thapaliya , addressing the inauguration ceremony, committed to strengthen services of national flag carrier Nepal Airlines Corporation (NAC) as earliest as possible.
"Nature, culture, agriculture, adventure and infrastructure should be integrated for overall tourism development in the country," he said.
Thapaliya highlighted on seven aspects – service and facilities, security, information and communications, cleanliness, organizational management, coordination, and increasing tourist numbers and their length of stay – for long-term development and promotion of tourism in the country.
Former Minister for Tourism Ms. Yankila Sherpa urged all the tourism entrepreneurs to cooperate Nepal Mountaineering Association to make mega – tourism event 'World Peace Puja 'successful. Nepal Mountaineering Association (NMA) plans to organize world peace puja on Feb. 2-4 this year in Pokhara.
Former Tourism Secretary and Governor of Nepal Rastra Bank Dipendra Purush Dhakal stressed on collective efforts to revive tourism sector.
Deepak Raj Joshi, CEO of Nepal Tourism Board (NTB), focused on promotional campaigns, travel facilitation and facilities to attract more tourists from China.
Former President of NATTA Ms. Ambica Shrestha, President of NATTA DB LImbu, First Vice President of NATTA Shambhu Raj Pathak and CEO of NATTA Dr. Hari Sarmah stressed on concerted efforts to revive sick tourism sector of the country.
Photo : Asheem Basnyat
On the occasion, NATTA felicitated Asheem Man Singh Basnyat, Chinese national Ning and Charan Sharma for their contribution on attracting Chinese tourists to Nepal.
NATTA was established in1966 by a group of leading travel professionals to work together for overall development of the tourisml industry in Nepal.
Jan.18, 2016