Nepal, China sign MoU on Belt and Road Initiative cooperation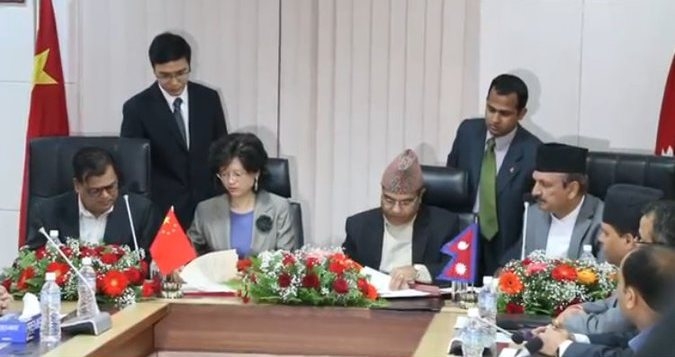 TravelBizNews —
Kathmandu: Nepal and People's Republic of China signed the Memorandum of Understanding (MOU) on cooperation under the Belt and Road Initiative amidst a special ceremony here today.
Foreign Secretary Shanker Das Bairagi and Ambassador of China to Nepal Ms. Yu Hong signed the MoU on behalf of their respective governments.
Deputy Prime Minister and Minister for Finance Krishna Bahadur Mahara and Minister for Foreign Affairs Dr. Prakash Sharan Mahat witnessed the signing ceremonyheld at Ministry of Foreign Affairs.
The major thrust of the MoU is to promote mutually beneficial cooperation between Nepal and China in various fields such as economy, environment, technology and culture.
The MoU aims at cooperation on promoting connectivity of facilities, trade connectivity, financial integration and connectivity of people according to a statement issued by MOFA Nepal.
The MoU seeks to strengthen cooperation in connectivity sectors including transit transport, logistic systems, transport network and related infrastructures development such as railway, road, civil aviation, power grid, information and communication.The MoU also aims to promote people-to-people exchanges of different levels between the two countries.
The MoU contains detailed framework for mutual cooperation in line with the MoU signed between the Governments of Nepal and China in December 2014.
Meanwhile, a high-level delegation led by Nepal's Deputy Prime Minister will attend the Belt and Road Forum for International Cooperation in Beijing.More than 29 heads of state and government leaders will attend the Belt and Road Forum for International Cooperation.
The forum, scheduled for May 14 -15 in Beijing, marks the highest-profile international meeting on the Belt and Road Initiative since China proposed the initiative in 2013.
May 12, 2017