Nepal Court issues stay order in favour of Mountaineering Association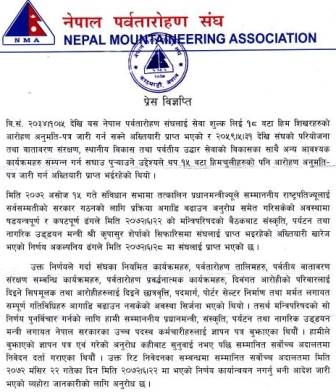 TravelBizNews —
Kathmandu: The Supreme Court of Nepal issued stay order on the recent decision of Government of Nepal regarding the cancellation of authority of Nepal Mountaineering Association (NMA) to issue climbing permits for 27 mountains.
Government of Nepal authorized NMA to issue permits for 18 peaks between 5,587 meter to 6,654 meter on 18 January 1978 in the Manang, Annapurna, Langtang and Khumbu area.
Later, NMA was given the responsibility by Government of Nepal to issue mountaineering permits to 15 more new peaks to climbers and mountaineers on 16 Sep 2002. These 33 peaks are also known as the NMA Climbing Peaks.
After the decision of government to waive royalty for six peaks below 5800m, NMA is issuing permits for 27 mountains.
The cabinet cancelled its authority to issue climbing permits and transferred the rights to Department of Tourism on 9 Oct 2015.
In response to a writ petition filed the NMA, the single bench of justice Om Prakash Mishra issued an interim order against the implementation of the recent decision taken by the Council of Ministers of Oct 9 , 2015 until final decision.
The apex court will discuss the matter with representative of Nepal government and NMA next week.
The NMA annually collects more than 50 million Nepali Rs as royalty from climbers attempting to summit 27 peaks.
Dec. 9, 2015