Nepal decides to sign 'One Belt, One Road 'agreement with China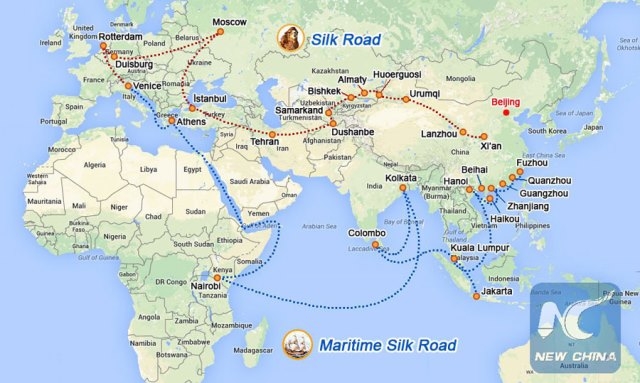 Ramesh Tiwari /TravelBizNews —
Kathmandu: Nepal has decided to sign an agreement with China to become a part of "One Belt, One Road (OBOR)" initiative.
A Cabinet meeting of the government of Nepal decided to sign OBOR agreement today.
A high-level delegation led by Nepal's Deputy Prime Minister and Finance Minister will participate in the upcoming OBOR conference to be held in Beijing on May 14-15.
At least 28 heads of state and over 150 nations have confirmed their participation in the conference. Conceived and bankrolled by China, OBOR is a long-term strategic initiative to improve connectivity and enhance trade routes from Southeast Asia to Europe.
The Belt and Road Forum for International Cooperation will be held on May 14 – 15 in Beijing with participation of more than 28 heads of state and 150 countries.
Chinese President Xi Jinping will attend the opening ceremony and host the round table summit of the leaders, Chinese Foreign Minister Wang Yi said recently in Beijing.
The 28 heads of state and government leaders will attend the conference including Argentinean President Mauricio Macri, Belarusian President Alexander Lukashenko, Chilean President Michelle Bachelet, Czech President Milos Zeman, Indonesian President Joko Widodo, Kazakh President Nursultan Nazarbayev, Kenyan President Uhuru Kenyatta, Lao President Bounnhang Vorachit, Philippine President Rodrigo Duterte, Russian President Vladimir Putin, Swiss President Doris Leuthard, Turkish President Recep Tayyip Erdogan , Uzbek President Shavkat Mirziyoyev, Vietnamese President Tran Dai Quang , Cambodian Prime Minister Hun Sen, Ethiopian Prime Minister Hailemariam Dessalegn, Fijian Prime Minister Voreqe Bainimarama, Greek Prime Minister Alexis Tsipras, Hungarian Prime Minister Viktor Orban , Italian Prime Minister Paolo Gentiloni, Malaysian Prime Minister Najib Razak , Mongolian Prime Minister Jargaltulga Erdenebat, Myanmar State Counselor Aung San Suu Kyi, Pakistani Prime Minister Nawaz Sharif, Polish Prime Minister Beata Szydlo, Serbian Prime Minister Aleksandar Vucic, Spanish Prime Minister Mariano Rajoy and Sri Lankan Prime Minister Ranil Wickremesinghe, Wang said.
The multi-trillion dollar Belt and Road Initiative is the most ambitious and all-encompassing economic development project in human history according to OBOR Forum.
The Belt and Road Initiative aims to connect Asia and Europe in a vast network of roads, railways, pipelines, airports, sea ports, transnational electrical grids and fiber optic lines of communication though the creation of an economic land belt traversing Central Asia and the Middle East .
The maritime road links China with the ports of the Indian Ocean, East Africa and the Mediterranean.
The Belt and Road Forum aims to enhance global understanding of the Belt and Road Initiative and provide a platform for corporations, industry, financial institutions, governments and scholars to engage and collaborate toward a common goal of greater Euro-Asian connectivity, prosperity and security.
May 8 , 2017