Nepal government decides – "No royalty collection from Mountaineering Association"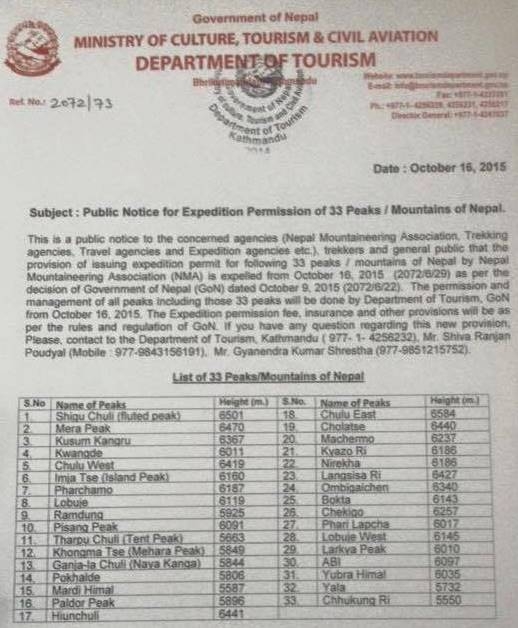 TravelBizNews Report —
Kathmandu: The government has quashed the decision concerning rights given to Nepal Mountaineering Association (NMA) to issue climbing permits and collect royalties for 33 Himalayan peaks effective from October 16 this year.
According to the Ministry of Culture, Tourism and Civil Aviation ( MoCTCA), the Department of Tourism will issue climbing permits for all the climbing peaks managed by NMA with effect from 16 Oct 2015.
"The act of issuing climbing permits and collecting royalty other than by the Department of Tourism will be illegal, "the Ministry said.
Nepal Mountaineering Association (NMA) was given right to issue permit and collect royalty for 15 Expedition Peaks namely , Mt.Cholatse -6440 meter , Mt.Machermo -6237 ,Mt.Kyazo Ri – 6186 m,Mt.Nirekha-6186 ,Mt.Langsisa Ri -6427 ,Mt.Ombigaichen-6340 ,Mt.Bokta -6143 ,Mt.Chekigo – 6257 ,Mt.Phari Lapcha -6017 ,Mt.Lobuje West -6145 , Mt.Larkya Peak-6010 , Mt.Abi -6097 ,Mt.Yubra Himal -6035 ,Mt.Yala – 5732 and Mt.Chhukung Ri -5550 meter in 2002.
Likewise , NMA was authorized to issue permit and collect royalty for 18 NMA Climbing Peaks under group B namely -Shigu Chuli(fluted peak)-6501, Mera Peak -6470 ,Kusum Kangru -6367 ,Kwangde-6011,Chulu West -6419 ,Imja Tse(Island Peak)-6160 ,Pharchamo-6187 ,Lobuje-6119 ,Ramdung -5925 ,Pisang Peak -6091,Tharpu Chuli (Tent Peak) 5663 ,Khongma –e (Mehara Peak)5849 ,Ganja-la Chuli(Naya Kanga)-5844,Pokhalde-5806 ,Mardi Himal -5587 ,Paldor Peak – 5896 ,Hiunchuli -6441,and Chulu East -6584 m. in 1978.
At present, the total royalty collected from the trekking peaks is estimated to be more than Rs 70 million per year. NMA says the decision will have adverse effect on mountain tourism.
The royalty for NMA Peaks is 70 to 250 US $ per person and the royalty varies in spring, autumn, winter and summer season.
NMA argues that the rights collect royalty is similar to the right given to Nepal Tourism Board (NTB) to collect service charge, and other fees collected by National Nature Conservation Trust, Foreign Employment Association, and bodies under district development committees.
Tourism entrepreneurs fear that the latest decision will also be applied to Nepal Tourism Board and Trekking Agencies Association of Nepal ( TAAN ) which are authorized to collect tourist service charge and manage TIMS system.
NTB and TAAN have introduced separate TIMS Cards for FITs and organized groups. FITs need to have Green TIMS cards by paying Nepali currency equivalent to US $20 per person, while those travelling in groups need to have Blue TIMS cards by paying Nepali currency equivalent to US $10 per person since April 2010.
The government handles peaks in the high Himalaya ranging in altitude from 7,000 metres to 8,000 metres and the NMA has been allowed to manage 33 peaks known as trekking peaks ranging in height from 5,587 metres to 6,654 metres in different ranges of the country.
Recently, the Parliamentary International Relations and Labour Committee had summoned MoCTCA officials and told them that the NMA could not collect government revenue, and that it should be done by the government itself.
Likewise, the association criticized a writ filed recently at the Supreme Court seeking to cancel its rights to issue climbing permits and collect royalties for 33 climbing peaks. Advocate Deepak Bikram Mishra had filed the writ at the Supreme Court challenging the NMA's right to collect royalty in the first week of July.
Later, the Supreme Court rejected a petition for a stay order preventing the Nepal Mountaineering Association (NMA) from issuing permits and collecting royalties for climbing peaks in the first week of August 2015.
NMA was established as a non-governmental organization in 1973 to promote mountain tourism, climbing sports and protect mountain environment.
October 17, 2015