Nepal- India relations to a new height, sign seven agreements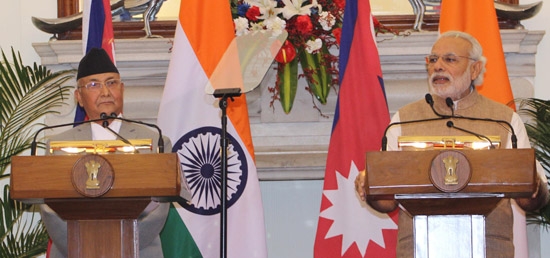 TravelBizNews —
Kathmandu: Nepal and India have signed seven agreements during Prime Minister K P Sharma Oli's six day state visit to India.
Prime Minister of Nepal Oli and India's Prime Minister Narendra Modi witnessed the exchange of the documents signed between the two countries.
Nepal and India signed Memorandum of Understanding ( MoU ) on utilization of US$ 250 million grant component of Government of India's assistance package for the post-earthquake reconstruction .
MoU on strengthening of road infrastructure in the Terai area of Nepal and MoU on cooperation between Nepal Academy of Music and Drama and Sangeet Natak Akademy, India were signed between the two countries.
Similarly, Letters of Exchange on – Simplification of transit between Nepal and Bangladesh through Kakarbitta-Banglabandh corridor; Operationalization of Vishakhapatnam Port; Amendment on Treaty of Transit and Rail transit to/from Vishakhapatnam ; Amendment in Rail Service Agreement and Rail transit facility through Singhabad for Nepal's Trade with and through Bangladesh were signed between the two countries.
Earlier, Nepal's Prime Minister K.P. Sharma Oli, and Prime Minister of India Narendra Modi held discussion on wide ranging areas of Nepal-India bilateral relations. This was preceded by one to one meeting between the two Prime Ministers.
Both Prime Ministers emphasized on expeditious implementation of ongoing development projects under bilateral cooperation related to infrastructure and connectivity. They stressed on early finalization of joint DPR of Pancheshwar Multipurpose Project.
The two Prime Ministers jointly inaugurated the first double circuit cross border Dhalkebar-Muzaffarpur transmission line (400 kv) by pressing a remote button. Upon its completion, Nepal has started importing 80 MW of additional electricity power immediately and with upgradation of sub-station on the Nepalese side, more electricity can be imported.
Addressing a joint press briefing, Oli stated that the main purpose of his visit was to clear misunderstanding between the two countries and bring the bilateral relations back on track. Indian Prime Minister Modi stated that promulgation of the constitution is an important achievement Nepal has made in its democratic process.
Likewise , Prime Minister Oli paid a call on Pranab Mukherjee, the President of India, at the Rashtrapati Bhavan. Oli shared with the President about the developments in Nepal following the promulgation of the constitution and the Government of Nepal's prioritization of economic agenda in the changed context.
President Mukherjee appreciated the promulgation of constitution as an important step in consolidation of democracy in Nepal and assured of Government of India's continued support to Nepal in its efforts for development and progress.
Feb. 20, 2016