Nepal sees 25 % growth in tourist arrivals in 2017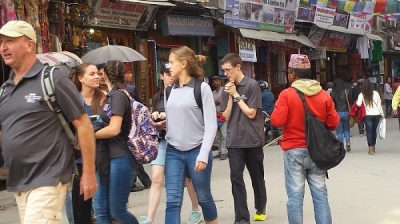 TravelBizNews —
Kathmandu: Nepal welcomed 940,218 tourists via air in 2017, up 24.86 percent from last year according to a preliminary data of Department of Immigration.
The government officials hope that the arrival figure will cross one million including the number of Indian tourists entering Nepal through land route.
Bhairahawa ,Kodari , Kakarvitta , Birgunj , Nepalgunj , Dhanagadhi , Kanchanpur and Rasuwagadhi are entry and exit land routes for the tourists .
Tourists from different 47 countries of the world visited Nepal last year.
A total of 160,832 Indian tourists entered Nepal via air in 2017. China was the second largest market for Nepal with 104,664 visitors while the US (79,146), the United Kingdom (51,058) and Sri Lanka (45,361) were  the third, fourth and fifth largest markets in terms of tourist arrival.
Similarly, Thailand (39,154), South Korea (34,301), Australia (33,371), Myanmar (30,852), and Germany (29,918) are other major markets for Nepal.
Two neighboring countries India and China are the two major tourism source markets for Nepal since the last few years.
A total of 118,249 Indian tourists visited Nepal via air route in 2016, whereas 104, 005 Chinese tourists visited Nepal last year.  The Chinese tourist arrival included 80,553 via air route and 23,452 tourists  from land route of Rasuwagadhi check point in Nepal – China border.
Following the devastating earthquake of April 2015, thousands of  tourists were compelled to cancel their plans to visit Nepal.
As a result, the tourist arrival in 2015 was 538,970 down from the figure of 2014 (790,118). A total of 753,002 tourists visited Nepal in 2016.
Major political parties have dreamt of welcoming 2 to 5 million tourists in the coming years.
Nepal government unveiled Tourism Vision 2020 with the target of welcoming  two million tourists and creating one million new jobs by 2020.
Jan 3  , 2018