Nepal declares 2018 as 'Visit Nepal Year '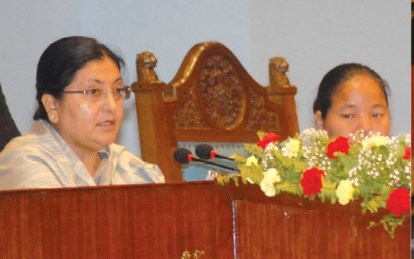 TravelBizNews Desk –
Kathmandu: Nepal government has proposed to celebrate 2018 as " Visit Nepal Year " aiming to bring one million international tourists in a year.
The government's policies and programmes presented by President Bidya Devi Bhandari before the Legislature-Parliament on May 8 declared 2018 as the 'Visit Nepal Year " with commitment of welcoming one million tourists in Nepal in 2018.
The government has outlined various plans and programs to develop tourism in the country in the policies and programs for fiscal year 2016/2017.
Excerpts from the Policies and Programs of the Government of Nepal for Fiscal Year 2073-74 (2016-17)
Focus on Travel and Tourism
– Emphasis will be given to upgradation of tourist destinations, identification and infrastructure development as well as marketing of new destinations for the development of tourism sector. A Ten Year National Strategic Tourism Plan will be implemented while introducing promotional programmes for attracting tourists from neighboring countries. Promotional programme will be launched to observe the year 2018 as Nepal Visit Year with the goal of bringing in one million tourists.
– Income and employment will be generated through internal tourism by observing the Year 2073 B.S. as Internal Visit Year. Touristic area and destination will be developed in every province by identifying at least one prime location as the center point. Historical, religious and cultural heritage sites will be preserved for the promotion of religious tourism.
– Arrangements of granting permits to tourists for trekking and mountaineering will be integrated. Mobile information system will be developed and implemented to inform about tourism destination and tourism services and facilities. In order to make mountain tourism safer, arrangement will be made for weather forecasting and prior dissemination of information. Construction work of integrated rescue center will be started in the Everest and Annapurna regions.
– While enhancing religious, social, cultural harmony and unity and ensuring full religious equality and freedom in the country, emphasis will be laid on the promotion and protection of the religion and culture handed down from time immemorial. Construction work of a National Cultural Museum in Kathmandu Valley will be advanced for the preservation and strengthening of cultural diversity of the nation by reflecting the lifestyle,traditions, language and literature, culture and custom of various ethnic and linguistic groups. One each Model Peace and Cultural Village in every province will be established for sustainable peace and development. Narayanhiti Museum will be developed as a Historical Museum of Nepal.
– Sacred birth place of Lord Buddha – Lumbini, touristic place Pokhara, Nepal's lowest lying land Kechana, and Damak, where the world's tallest Buddha Statue is to be established, will be linked with the International Buddhist Circuit.
– Additional airports will be constructed with the objective of expanding air transport to the rural areas. Airports not in operation will be brought into operation. Helipad construction programmes will be started, gradually, in all municipal-villages while giving priority to villages in remote areas. Feasibility study will be conducted for construction in accordance with the concept of one provincial international airport in every province.
– Tribhuvan International Airport will be upgraded. Construction work of the Gautam Buddha International Airport and Pokhara Regional International Airport will be expedited and completed within specified time. Construction work for Bara International Airport will be started by completing land acquisition and demarcation work.
– Air safety standards will be strictly implemented as per the international standard in order to make the civil aviation of Nepal safer. Radar system will be upgraded for the improvement of internal aviation safety. National Flag Carrier Nepal Airlines Corporation will be made competitive and its image will be enhanced.
May 8 , 2016