Nepali , Pakistani mountaineers summit Mount K2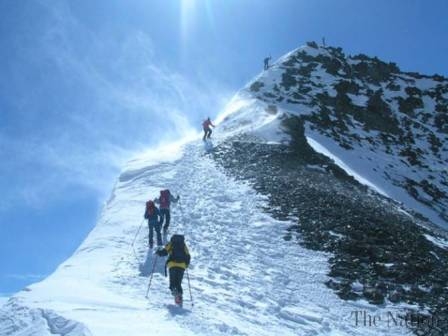 Travelbiznews online ——
Kathmandu : A three-member Nepali women climber's team successfully scaled Mount K2 in Pakistan setting a new world record for the country.
The members of the first Nepali Women K2 Expedition-2014 -Maya Sherpa, 35 from Okhaldhunga, Dawa Yanjung Sherpa, 25 from Dolakha, and Pasang Lhamu Sherpa, 29 from Solukhumbu district reached the summit of K2 on July 26 2014.
Mount K2 (8,611m), the world's second highest peak,is said to be deadlier than Mount Everest .
Similarly , the first-ever team of Pakistani climbers have reached the top of the world's second tallest mountain, K2, to mark 60 years since it was first scaled.
The six climbers are Hassan Jan, Ali Durani, Rahmat Ullah Baig, Ghulam Mehdi, Ali and Muhammad Sadiq. Three Italians are also part of the group.
Unlike Mount Everest that has been summited by nearly 3,500 young and old climbers, K2 has been a much lonelier place with roughly 300 making to its tops since it was first captured 60 years ago. Many climbers have died on the descent.
According to ' The Nation" of Pakistan, the 8,611-meter K2 is located on the border between Baltistan, in the Gilgit-Baltistan region of northern Pakistan, and the Taxkorgan Tajik Autonomous County of Xinjiang, China. It was the country's first team effort, although individual Pakistani climbers have previously climbed the peak.
The Pakistan expedition is sponsored by the local Gilgit-Baltistan government and the Italian organisation Ev-k2CNR to mark the 60th anniversary of the first ascent of K2 by Italian climbers on July 31, 1954.
July 26, 2014