Nepali women climbers to climb K2 in Pakistan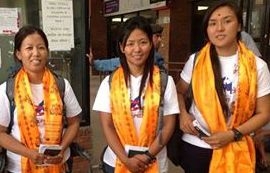 TBN Online ———–
Kathmandu: The 'First Nepali Women Expedition to K2 2014' comprising three young women climbers from Nepal Maya Sherpa, Dawa Yangzum Sherpa and Pasang Lhamu Sherpa set out today to climb Mt K2 in Pakistan.Mt K2, 8611 m, is the second highest mountain on earth.
Carrying a message'Women Climbing for Climate' ,the team commits to be the first all-women team from Nepal on the top of this Himalayan giant.
By becoming the first Nepali women to summit K2, the team hopes to raise awareness of climate change and funds for the protection of the mountain environment.
ICIMOD has supported the expedition as a manifestation of its commitment to integrate women into climate change research and adaptation, and sustainable development in the Himalayas.
According to ICIMOD statement, the expedition will take about 65 days from mid-June to the end of August 2014, starting from Kathmandu. The team will place ICIMOD's banner on the K2 summit.
June 19, 2014