New SKAL World President elected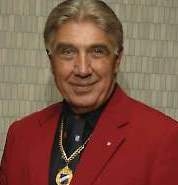 Mexico :SKAL International has elected Salih Cene of Turkey as new President for the next year.
Delegates from 87 nations voted for the new SKAL President at the 75th SKAL world congress in Mexico City.
His background as a hotel executive will help him to lead this 17,000 member strong travel and tourism organization. A clear majority of 150 voting delegates supported Mr. Salih Cene. He was the vice president during the last term. Mr Cene is member of the Antalya SKAL club in Turkey.
He has been in the hospitality industry since 1969 and had leading positions in numerous hotels, including some General Manager positions. Since 2006 he is a consultant for hotels and investors
Mr. Cene joined SKAL in 1980, first as a member of the Istanbul club.He switched and joined the Antalya club in 1992 and was their president from 2000 to 2003. He was voted as the SKAL Turkey president in 2007 zwei Jahre zum Präsidenten von Skål-Türkei gewählt.
Besides voting for the world President, the office of the Vice president went to Nigel Pilkington from New Zealand, and David Fisher from Kenya.
New directors are Rafael Juan Milan Perez from Mexico and Susanna Sari from Finland . – SKAL
October 2014