PATA 2016 Grand and Gold Award winners announced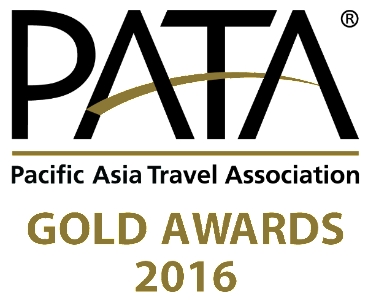 TravelBizNews —
BANGKOK: The Pacific Asia Travel Association (PATA) has announced the winners of the 2106 PATA Grand and Gold Awards.
PATA award is supported and sponsored by the Macao Government Tourism Office (MGTO) for the last 21 years. This year's awards recognise the achievements of 26 separate organisations and individuals.
PATA will present 31 Grand and Gold Awards at Jakarta, Indonesia on September 9 during PATA Travel Mart 2016.
The PATA Grand Awards are presented to outstanding entries in four principal categories: Marketing; Education and Training; Environment, and Heritage and Culture.
Jetwing Hotels, Sri Lanka will receive the 2016 PATA Grand Award for Education and Training for its 'A Journey of Hope and Progress – The Jetwing Youth Development Project'. The Environmental award will be presented to Marina Bay Sands, Singapore, for its 'Sands ECO360°'.
Similarly, the Heritage and Culture Award will be awarded to Tourism Authority of Thailand (TAT), for its 'One and Only Project in Discover Thainess Campaign'and the Marketing Award will be presented to Hong Kong Tourism Board (HKTB) for its 'Hong Kong New Year Countdown Celebrations Campaign'.
PATA Grand Award 2016
Education and Training
A Journey of Hope and Progress – The Jetwing Youth Development Project
Jetwing Hotels, Sri Lanka
PATA Grand Award 2016
Environment
Sands ECO360°
Marina Bay Sands, Singapore
PATA Grand Award 2016
Heritage and Culture
One and Only Project in Discover Thainess Campaign
Tourism Authority of Thailand
PATA Grand Award 2016
Marketing
Hong Kong New Years Countdown Celebrations Campaign
Hong Kong Tourism Board
————————————-
PATA Gold Award 2016
Marketing – Primary Government Destination
Total Solar Eclipse Indonesia
Ministry of Tourism Republic of Indonesia
PATA Gold Award 2016
Marketing – Secondary Government Destination
NSW South Coast Campaign
Destination NSW, Australia
PATA Gold Award 2016
Marketing – Carrier
Match.com Brand Partnership
Fiji Airways, USA
PATA Gold Award 2016
Marketing – Hotel
Ways to wow
Hotel ICON, Hong Kong SAR
PATA Gold Award 2016
Marketing – Industry
Thailand Boutique Awards
Krungthai Card Public Company Limited, Thailand
PATA Gold Award 2016
Marketing – Youth Travel
Universal Studios Singapore's Halloween Horror Nights 5
Resort World Sentosa, Singapore
PATA Gold Award 2016
CSR
EXO Travel CSR Programme
EXO Travel, Thailand
PATA Gold Award 2016
Education and Training
Introducing young TEC – New Zealand training future tourism leaders
Tourism Export Council New Zealand
PATA Gold Award 2016
Environment – Corporate Environmental Programme
The TreadRight Foundation's Wild Coverage across Planet
The Travel Corporation
PATA Gold Award 2016
Environment – Ecotourism Project
Low Carbon Holiday Initiative Project
DASTA, Thailand
PATA Gold Award 2016
Environment – Educational Programme
Eco Walk the Frangipani Langkawi Resort and Spa
The Frangipani Langkawi Resort and Spa, Malaysia
PATA Gold Award 2016
Heritage and Culture – Heritage
Stone Houses, the heritage of Matsu Islands
Tourism Bureau, Chinese Taipei
PATA Gold Award 2016
Heritage and Culture – Culture
Lalare Orchestra
Ministry of Tourism Republic of Indonesia
PATA Gold Award 2016
Marketing Media – Consumer Travel Brochure
Perfect Moments – Luxury Travel by SOTC
SOTC Travel Services Pvt. Ltd., India
PATA Gold Award 2016
Marketing Media – Mobile Travel Application
Step Out, Macao Mobile App
Macao Government Tourism Office, Macao SAR
PATA Gold Award 2016
Marketing Media – Promotional Travel Video
Visit Nepal after the Earthquake
Adventure Travel Trade Association, USA
PATA Gold Award 2016
Marketing Media – Public Relations Campaign
Papua New Guinea's Past, Present, Future Photo Exhibit Event
Tourism Papua New Guinea, USA
PATA Gold Award 2016
Marketing Media – E-Newsletter
Kerala Tourism E-Newsletter
Kerala Tourism, India
PATA Gold Award 2016
Marketing Media – Travel Advertisement Broadcast Media
Visit Kerala
Kerala Tourism, India
PATA Gold Award 2016
Marketing Media – Travel Advertisement Print Media
2016 Calendar: K-Food
Korea Tourism Organization, Korea (ROK)
PATA Gold Award 2016
Marketing Media – Travel Poster
Landmark of Malaysia
Tourism Malaysia
PATA Gold Award 2016
Marketing Media – Web site
Mekong Tourism.org Digital Platform
Mekong Tourism Coordinating Office (MTCO), Thailand
PATA Gold Award 2016
Marketing Media – Social Media
Discover Hong Kong Facebook Fan Page
Hong Kong Tourism Board
PATA Gold Award 2016
Travel Journalism – Destination Article
Da Nang Breathing Fire by Roderick Eime
Vacation & Travel, October/November 2015, Australia
PATA Gold Award 2016
Travel Journalism – Industry Business Article
The New Glamorous, TTG Asia Luxury December 2015
by Mimi Hudoyo and Raini Hamdi
TTG Asia Media PTE LTD, Singapore
PATA Gold Award 2016
Travel Journalism – Travel Guide Book
Thailand from the Air
Tourism Authority of Thailand
PATA Gold Award 2016
Travel Journalism – Travel Photograph
Journey of the Wanderer by Handi Lakonso
Colours, Inflight magazine of Garuda Indonesia, April 2015
Agency Fish, Indonesia
Honourable Mention
PATA Gold Award 2016 – Marketing
The RoadTrip: Asia 2015
Contiki Holidays, United Kingdom
July 21, 2016