PATA Annual Summit 2016 to be held in Guam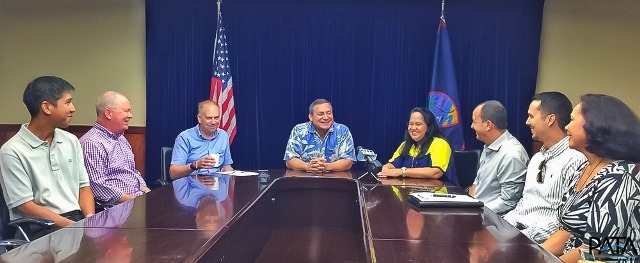 TUMON, Guam : Pacific Asia Travel Association (PATA) annual summit 2016 will be held at the Dusit Thani Guam Resort in Tumon, Guam in May 2016.
The summit to be hosted by the Guam Visitors Bureau will include conference, the PATA Youth Symposium, the PATA Executive Board and Committee meetings, and Annual General Meeting 2016.Governor of Guam Eddie Baza Calvo and PATA CEO Mario Hardy announced the summit decision in Guam.
Governor Eddie Baza Calvo. "As the gateway between Asia and America, Guam's geographic location, its perfect blend of Pacific islander, Asian and American community, and it's beautiful beaches all come together to provide a unique experience."
PATA CEO Mario Hardy, along with staff from PATA Headquarters, are currently in Guam to endorse the the 12th Festival of Pacific Arts (FestPac) to be held in Guam fro May 22 – June 4, 2016. The Festival of the Pacific Arts is held every four years since 1972, and brings together artists and cultural practitioners from around the Pacific region for two weeks of festivity.
Guam is "Where America's Day Begins." As the largest and southernmost island in the Marianas, this unincorporated territory of the United States has a rich 4,000-year-old history and culture based on its indigenous Chamorro people.
Guam is about 8 miles wide and 32 miles long, and is located 900 miles north of the equator in the Western Pacific. Commonly referred to as "America in Asia", Guam is a 3 to 5 hour flight from the Philippines, Japan, Korea, Hong Kong SAR, and Australia. Its capital city is Hagåtña (formerly Agana).
With pristine beaches, friendly people and wholesome island hospitality, this unique world-class destination has tropical weather conditions year-round. Guam also has a plethora of activities to keep visitors from all over the world entertained since tourism is its top economic driver.- PATA
May , 2015