PATA elects new Executive Board , Andrew Jones new Chairman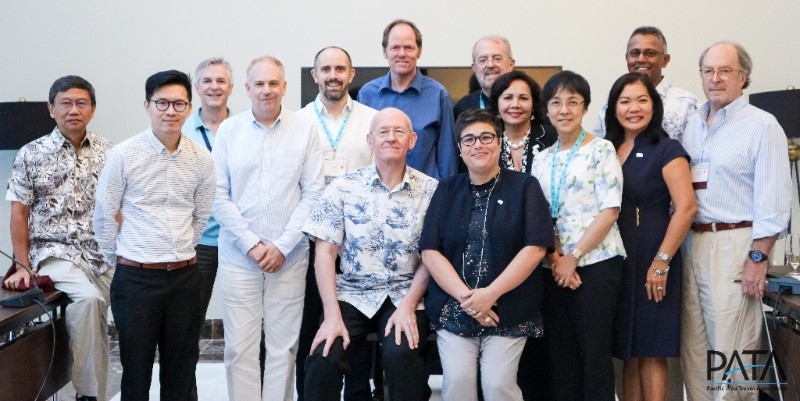 TravelBizNews Desk —
BANGKOK: The Pacific Asia Travel Association (PATA) has elected Andrew Jones, Guardian – Sanctuary Resorts, Hong Kong SAR, as Chairman of the Association's Executive Board. He replaces Kevin B Murphy who was elected Chairman in April 2015 and who remains a member of the Executive Board as Immediate Past Chairman.
During the PATA Annual Summit 2016 in Guam, USA, PATA also elected a new Executive Board comprising Sarah Mathews, Head of Destination Marketing Asia Pacific – TripAdvisor based in Hong Kong SAR; Stephen Pearce, Vice President – Marketing at Tourism Vancouver; Hiran Cooray, Chairman – Jetwing Hotels Sri Lanka; Mark Clarkson, Director – Business Development Asia Pacific, OAG Singapore; Anthony Lau, Executive Director – Hong Kong Tourism Board; Vikram Madhok, Managing Director – Abercrombie & Kent India, Ltd.; Chris Bottrill, Dean at the Faculty of Global and Community Studies, School of Tourism Management – Capilano University Canada; Maria Helena de Senna Fernandes, Director – Macao Government Tourism Office, Macao SAR; Pilar Laguaña, Chairperson, PATA Micronesia Chapter, Guam; and Ben Montgomery, Director of Business Relations Management, Centara Hotels & Resorts, Thailand.
Newly elected Chairman Andrew is a leading proponent of Corporate Social Responsibility and Wellness in Tourism and is a knowledgeable keynote speaker, moderator and panelist on matters of responsible and sustainable tourism at many hotel, environment and social enterprise forums and conferences as well as at universities and vocational schools.
A Certified Hotel Administrator of the American Hotel and Lodging Association, and a Fellow of the Institute of Hospitality, Andrew was previously a member of the Board of the Indian Ocean Tourism Organization and Director, Asia Pacific Affairs for the International Hotel and Restaurant Association.
He believes in contributing directly to the community in which he lives and is Chairman Emeritus of the KELY (Kid's Everywhere Like You) Support Group, a Past President of the Rotary Club of Kowloon, and a supporter of numerous other charitable organisations and social ventures in Hong Kong SAR.
Over the past 45 years he has worked in numerous senior management and corporate positions for prestigious hotels, resorts and management companies in London, Bermuda, Canada, Hong Kong SAR and across Asia. In 1996 he founded and became the Guardian of Sanctuary Resorts, a resort management company creating responsible and sustainable tourism experiences where people can balance their body, mind and spirit in an environmentally friendly space.
Sarah Mathews was elected as the new Vice Chairperson. Stephen Pearce was elected Secretary/Treasurer in place of Basant Mishra, Executive Chairman – Temple Tiger Group of Companies in Nepal who had held the position since April 2014.
Miss Mathews, together with her team of four, is responsible for leading TripAdvisor's efforts and initiatives in collaboration with and providing support to tourism boards across Asia Pacific as well as developing strategies that drive awareness for each destination. Her insights into the regional travel industry have made her a consistent figure in trade shows and conferences where she shares case studies and best practices of key industry players.
Having joined TripAdvisor in the London office back in 2012, Sarah Mathews then managed key clients across Europe, Asia and Africa, building close relationships with tourism boards including South Africa Tourism and Greek National Tourism Organization. Her work with South Africa Tourism is reflected in a case study that was featured in the recently published UNWTO-E Marketing Handbook.
Born and raised in Hong Kong Miss Mathews is proficient in Chinese and has spent most of her life living in Hong Kong, Beijing and Australia, allowing her to have an in-depth understanding of the region's cultural needs and sensitivities. Prior to joining TripAdvisor she worked at the Hong Kong Tourism Board (based in London) and Visit Flanders where she managed international marketing for the respective destinations.
Stephen Pearce is a strategic marketer with over thirty years of experience in destination marketing and development. He sees himself as a change-agent; negotiating and implementing strategic alliances and partnerships with public and private businesses to compete effectively. Curiosity, risk, creativity and innovation define his approach to market synthesis and development. Stephen has worked with public and private companies across Canada. He joined Tourism Vancouver in 2001 and is currently Vice President, Marketing.
Setyono Djuandi Darmono, Chairman, President University, Indonesia and W. Scott Supernaw, Managing Director – International, Tauck, Inc., USA have been appointed to the Executive Board as non-voting members.
Danny Ho, Executive Chef – Pastry, Hotel ICON, Hong Kong SAR and the 2016 PATA Face of the Future, joins the PATA Executive Board as a non-voting member and observer for a one-year term at the invitation of the PATA Chairman.
On the election of the new Executive Board PATA CEO Mario Hardy said, "PATA is committed to ensuring diversity, equality and empowerment in the workplace and I commend our members in electing a diverse Executive Board in representing them. It is important that we lead by example as we want to show our partners and industry colleagues what leadership is truly about and encourage them to follow suit. I congratulate our new Executive Board members on their appointments and I look forward to working with them in creating a better organisation for our members that can make an even greater impact on the travel and tourism industry."
The new Executive Board members were confirmed at the PATA Board Meeting on May 21, 2016 during the PATA Annual Summit 2016 in Guam, USA.
Pacific Asia Travel Association (PATA) , established in 1951, is a not-for profit association that is internationally acclaimed for acting as a catalyst for the responsible development of travel and tourism to, from and within the Asia Pacific region. The Association provides aligned advocacy, insightful research and innovative events to its member organisations, comprising 95 government, state and city tourism bodies, 29 international airlines, airports and cruise lines, 63 educational institutions, and hundreds of travel industry companies in Asia Pacific and beyond. – Inputs : PATA
May 26, 2016