PATA elects new leadership, Ms. Sarah Mathews as Chairperson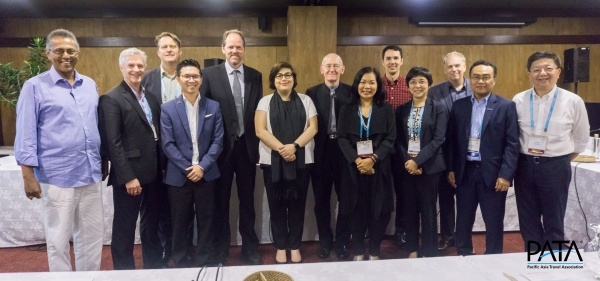 TravelBizNews Online —
Bangkok: The Pacific Asia Tr avel Association (PATA) has elected Head of Destination Marketing Asia Pacific – TripAdvisor Ms. Sarah Mathews as Chairperson of the Association's Executive Board.
Ms. Sarah replaces Andrew Jones who was elected Chairman in May 2016 but remains a member of the Executive Board as Immediate Past Chairman. Sarah has been an active PATA member since TripAdvisor joined the Association in 2012.
Sarah leads the Hong Kong based Destination Marketing Sales team at TripAdvisor, for the Asia Pacific region . The team is focused on working with and supporting all tourism boards in Asia Pacific, as well as helping local hospitality businesses better understand the impact of digital on their business.
During the PATA Annual Summit 2017 in Negombo, Sri Lanka, PATA also elected a five new members to its Executive Board including Dr. Chris Bottrill, Dean at the Faculty of Global and Community Studies, School of Tourism Management – Capilano University, Canada; Hiran Cooray, Chairman – Jetwing Hotels Sri Lanka; Jon Nathan Denight, President and CEO – Guam Visitors Bureau, USA; Mohamed Sallauddin H.j. Mat Sah, General Manager Marketing – Malaysia Airports Holdings Bhd, Malaysia, and Peter Semone, Senior Advisor – Lao National Institute of Tourism and Hospitality (LANITH), Lao PDR.
Other Executive Board members include Stephen Pearce, Vice President – Marketing at Tourism Vancouver; Maria Helena de Senna Fernandes, Director – Macao Government Tourism Office, Macao SAR; Pilar Laguaña, Chairperson, PATA Micronesia Chapter, Guam, and Ben Montgomery, Director of Business Relations Management, Centara Hotels & Resorts, Thailand.
Dr. Chris Bottrill was elected as the new Vice Chairperson, while Stephen Pearce remains Secretary/Treasurer.Chris has extensive applied industry experience having completed over 50 tourism management and development projects around the globe.
Anthony Lau, Executive Director – Hong Kong Tourism Board, Hong Kong SAR and Soon-Hwa Wong, Regional Director – Asia Pacific, Blacklane GmBH, Singapore have been appointed to the Executive Board as non-voting members.
Furthermore, Faeez Fadhlillah, the CEO and Co-founder of Tripfez, Malaysia and the PATA Face of the Future 2017, joins the PATA Executive Board as a non-voting member and observer for a one-year term at the invitation of the PATA Chairperson.
The new Executive Board members were confirmed at the PATA Board Meeting on May 21, 2017 during the PATA Annual Summit 2017 in Negombo, Sri Lanka according to PATA statement.
May 24, 2017