PATA honors travel industry personalities of the Asia Pacific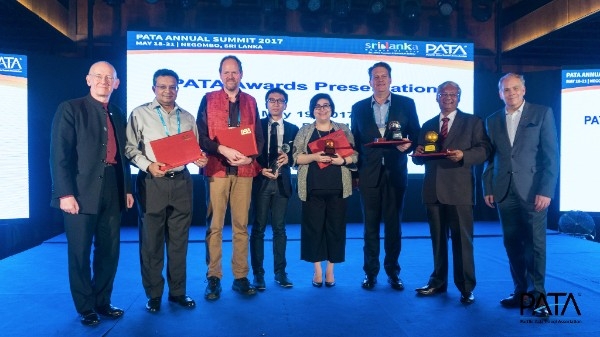 TravelBizNews Online —
Bangkok: Pacific Asia Travel Association (PATA) has presented a series of awards in recognition of contributions made to the responsible development of travel and tourism in the Asia Pacific region.
The awards – PATA Life Member, PATA Award of Merit, PATA Chairman's Award, PATA Face of the Future Award, a PATA Certificate of Appreciation, and the PATA Honorary Membership Award- were presented during the PATA Annual Summit 2017 held in Negombo , Sri Lanka .
PATA Life Membership was awarded to Chief Executive Officer of Langkawi Development Authority (LADA) Dato' Haji Azizan bin Noordin. This is the Association's highest individual honour and recognises significant leadership and invaluable dedication to PATA.
The PATA Awards of Merit was presented to Peter Semone, managing partner of the strategic advisory organization, Destination Human Capital, and founder of the internationally acclaimed Lanith – Lao National Institute of Tourism and Hospitality vocational school in Lao PDR.
The PATA Chairman's Award was presented by outgoing Chairman Andrew Jones to Ms Sarah Mathews, Head of Destination Marketing APAC – TripAdvisor.
The PATA Face of the Future award for 2017 was presented to Mr Faeez Fadhlillah. It is the most prestigious honour for young tourism professional in Asia Pacific.
The PATA Certificate of Appreciation was awarded to Dr. Chris Bottrill for his work in leading governance revisions to align strategic efforts of the organization in order to engage a broader base of membership.
The Honorary Membership Award was presented to Sutheash Balasubramaniam, Managing Director of Sri Lanka Tourism Promotion Bureau, the host of PATA Annual Summit 2017 , according to PATA statement .
May 24, 2017