Poachers kill 11,000 elephants in Gabon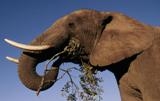 Yaoundé, Cameroon – A new study confirms what has been long suspected: elephant populations are being decimated to the point that the survival of the species in Central Africa is now in question.
According to a study by the Gabonese National Parks Agency, WWF and the Wildlife Conservation Society (WCS), poachers have killed an estimated 11,100 elephants – between 44 to 77 per cent of the population –in parts of Minkébé's National Park and its surroundings in northern Gabon since 2004, when it held Africa's largest forest elephant population.
"The situation is out of control. We are witnessing the systematic slaughter of the world's largest land mammal," said Bas Huijbregts, head of the Central African strand of WWF's global campaign against illegal wildlife trade.
"Some reports lead the world to believe that the ivory war has moved from the Central Africa region to other parts of the continent. This is wrong. What has changed is that these criminals are now also attacking the better protected elephant herds in Eastern and Southern Africa."
Fiona Maisels, a conservation scientist at WCS who has been analyzing the survey data, said that the data pointed to a regional crisis."The Minkébé data are representative of trends across all remaining forest elephant strongholds in the region, not to speak of the Democratic Republic of the Congo, which is believed to hold 7,000 to 10,000 elephants, or less than ten per cent of its population twenty years ago,"
Gabon, Maisels explained, represents only about 13% of the forests of Central Africa but is home to over half of Africa's forest elephants. The Minkébé National Park, in turn, is home to Gabon's biggest elephant population and to probably the largest forest elephant population in Africa. "At least until these data came out," she said.
Over in in the Central African Republic (CAR) – which in the mid 1980's held up to 80,000 elephants – poachers are taking advantage of the political instability to wipe out the country's remaining elephant, which can now number in the thousands. – WWF