PP Prasai Tourism Lifetime Achievement Award 2016 to Ms. Ambica Shrestha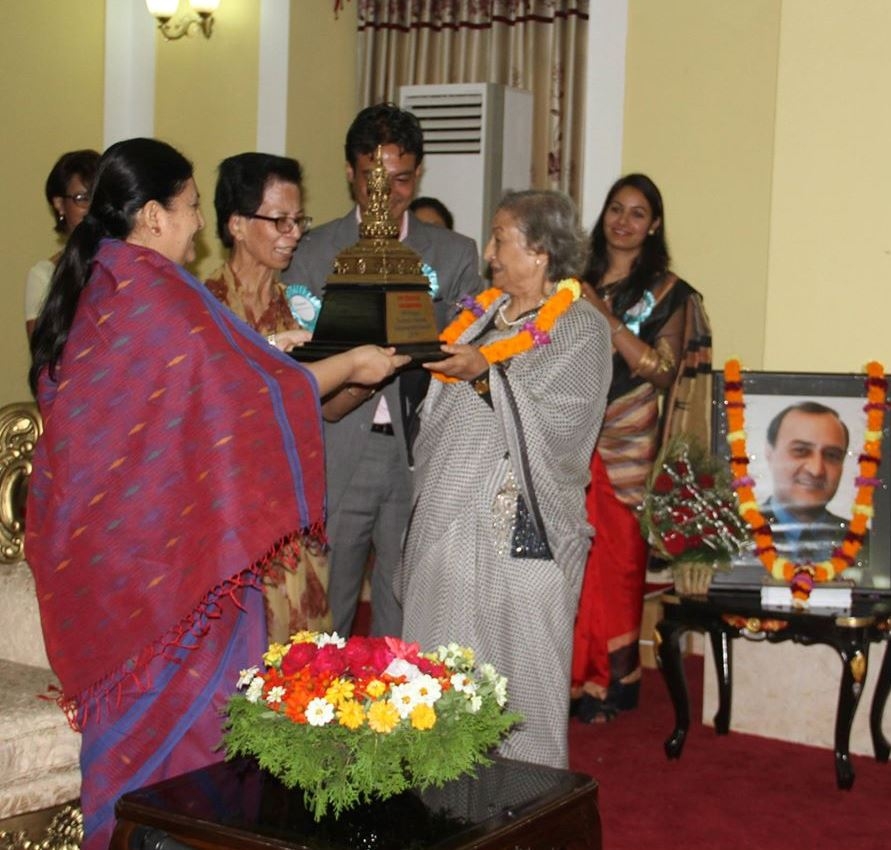 TravelBizNews —
Kathmandu: President Bidya Devi Bhandari conferred 'PP Prasai Excellence in Education Award 2016 ' to six teachers and " PP PrasaiTourism Lifetime Achievement Award 2016 "to senior tourism entrepreneur Ms. Ambica Shrestha amidst a ceremony at President's office today.
Ms. Shrestha is chairperson of Dwarika's Resort and Hotels and is involved in the tourism industry since the last four decades.
President Bhandari conferred' " PP Prasai Excellence in Education Award " to Indra Prasad Poudel ,a teacher in Satyabati Higher Secondary School of Damauli , Tanahun. The award carries a purse of Rs 50,000.
Similarly, President conferred ' Regional Best Teacher Award' on five teachers – Narpati Pandey , Ram Hada , Chudamani Subedi , Bina Malla and Tek Bahadur Biswakarma , representing five development regions of the country. The regional award carries a purse of Rs 25,000.
PP Prasai Foundation honours excellent teachers each year. The foundation was established in February 2011 as a tribute to founder of Natraj Group of Companies and former President of Himalayan Rescue Association ( HRA ) late Prajapati Prasai.
"PP Prasai's death on 5 September 1999 in an air crash had left many of his dreams unfulfilled. The Foundation was established to keep alive PP's aspirations of developing and promoting the education and tourism sector of Nepal while serving the people in need," according to President of the Foundation Shikher Prasai .
The Patron of the Foundation is Sharda Prasai, Chairperson Natraj Tours and Travels.
Late Prasai contributed a lot for the development of tourism industry in the country in his lifetime .He was associated with different organizations related to travel and tourism including HRA.
Sept. 5 , 2016