Shangri-La Hotel, Lhasa to open in the heart of the Himalayas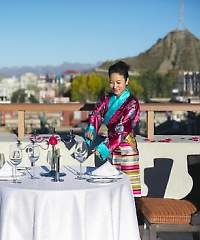 Lhasa : Few places in the world are as magical as Lhasa, the administrative capital of Tibet. Set on a plateau soaring 3,650 metres above sea level, the city is encircled by the fabled Himalayan mountains, glaciers and desert-like landscapes. This intriguing destination will become home to Shangri-La Hotels and Resorts' newest property, the 289-room Shangri-La Hotel, Lhasa, which will open on 17 April 2014.
Welcoming travellers from afar, Shangri-La Hotel, Lhasa will be a luxurious home base for those wishing to explore dramatic scenery and some of the world's most culturally significant Buddhist sites, including World Heritage Sites such as the Potala Palace, Jokhang Temple, Sera Monastery and Norbulingka Palace. The hotel is conveniently located within walking distance to Potala Palace and Norbulingka Palace.
Guests will approach the hotel through a grand entrance gate, which opens onto an expansive plaza and is inspired by traditional Tibetan architecture, as is the hotel's exterior. The unique Tibetan culture was the reference for the property's harmonious, contemporary interiors — the heart of which is Lodgers Lounge.
The Shangri-La brand was inspired by the mythical paradise found in James Hilton's novel, Lost Horizon. True in spirit to that imaginary Shangri-La, the hotel offers guests Shangri-La's heartfelt hospitality and a full array of facilities and luxurious comforts, from a range of dining venues and recreational facilities, to spacious guestrooms and elegant meeting and event spaces.
The hotel's Horizon Club Lounge caters to the full range of travellers' needs, providing destination information, arranging tours and transportation as well as offering business services.
Visitors to Lhasa are advised to acclimate to the high altitude before exploring widely. To refresh and assist guests in doing so, the hotel has built the first oxygen lounge to be found in a hotel in Lhasa. Guests can relax and enjoy reflexology treatments there while overlooking the hotel's landscaped garden. Two stunning pavilions built by Tibetan craftsmen using bronzeware, lacquer, murals and carvings anchor the landscape. In addition to the oxygen lounge, a spa, fully equipped gym, an indoor swimming pool, and a complete clinic with professional staff are located onsite.
Among the hotel's 289 contemporary guestrooms are 10 long stay apartments. Guestrooms, some of which offer views of the Potala Palace, start from 42 square metres and are equipped with complimentary Wi-Fi Internet access. The rooms' modern decor is grounded in neutral colours and accentuated with the earthy reds, deep blues, and vibrant greens that are seen in traditional Tibetan dress. Traditional Himalayan accents such as turquoise stone, decorative metals, floral patterns and auspicious symbols complement the contemporary design.
In-room services will include authentic sweet tea served in Tibetan pots and turndown gifts such as hand-woven pouches made of yak fur.
The hotel's signature outlet is Shambala, a tapas bar and lounge. It pays homage to the region by featuring authentic Tibetan cuisine. Signature dishes will include Roasted Lamb Ribs marinated in Tibetan yoghurt and Baked Bacon wrapped in Tibetan cheese. Guests will also find a variety of traditional Yunnan dishes on the menu. The cosy interior of the restaurant is low lit by lights reminiscent of oil lanterns carried by monks, and the walls are draped in Tibetan handcrafted carpets. Other Tibetan influences include decorative metal fixtures across the low ceiling beams and the repetitive use of the auspicious endless knot. Guests can opt to enjoy drinks and food in one of three areas: the lounge, dining room or outdoor tapas bar where they can take in views of Potala Palace.
The all-day dining restaurant, Altitude, serves international fare and also has an outdoor dining area. Guests can enjoy a theatre of cooking due to the open kitchen layout. Shang Palace, a Shangri-La signature restaurant, will serve authentic Cantonese and Sichuan specialties in a contemporary setting and in the restaurant's 10 private dining rooms.
For destination meetings and events, organisers will find ballrooms and function spaces starting from 81 square metres. The 1,215-square-metre Grand Ballroom is the largest in the city. The eves of the ballroom are inspired by Jokhang Temple, while the ceiling is covered in wallpaper using a gold brush technique. The breakout area at Level 5 leads to the Outdoor Terrace, which overlooks Potala Palace and the surrounding mountain range, making it an ideal space for a pre-event cocktail.
Shangri-La Hotel, Lhasa is a 40-minute drive from Lhasa Gongar Airport and a 10-minute drive from the world's highest railway station.
Hong Kong-based Shangri-La Hotels and Resorts, one of the world's premier hotel companies, currently owns and/or manages more than 80 hotels under the Shangri-La brand with a room inventory of over 34,000. Over four decades, the group has established its brand hallmark of 'hospitality from the heart.' The group has a substantial development pipeline with upcoming projects in mainland China, India, Mongolia, Myanmar, Philippines, Qatar, Sri Lanka and the United Kingdom.
For more information : www.shangri-la.com