Sheraton to open 30 hotels over the next year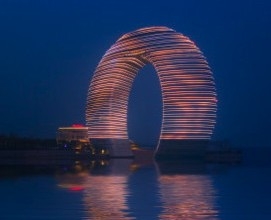 Starwood Hotels & Resorts Worldwide, Inc. announced that its Sheraton brand plans to open 30 hotels over the next 12 months. Half of the new Sheraton hotels will open in China, lengthening Starwood's lead as the largest upper-upscale global hotel operator in Asia Pacific. Sheraton is also picking up momentum in several other emerging markets including Latin America, the Middle East and Turkey.
"Sheraton is anticipating record-breaking growth, putting us on track to open our 500th hotel in 2015. The majority of our new hotel development is taking place in the world's fast-growing economies, while inNorth America, Sheraton remains one of the most sought-after brands for conversion opportunities," saidHoyt Harper, Global Brand Leader for Sheraton Hotels & Resorts. "Our portfolio is stronger than ever following our highly successful brand-wide revitalization and multi-billion dollar investment to enhance the Sheraton brand over the past several years."
Sheraton is slated to open 15 new hotels across China over the next 12 months, moving it closer to its target of 80 properties in this vast market by the end of 2015. One of the more notable openings this year is Sheraton Huzhou Hot Spring Resort, which boasts an innovative ring-shaped structure designed by leading-edge architect Ma Yansong.
The brand's portfolio in Africa and the Middle East will expand over the next 12 months with the addition of four new hotels including the fourth Sheraton in Saudi Arabia– Sheraton Medina Hotel, Sheraton Dubai Mall of Emirates and the first in Tajikistan – Sheraton Dushanbe Hotel. Sheraton will also open two new hotels in Turkey, Europe's fastest-growing market, in the cities of Adana and Bursa.