'Sichuan, More Than Pandas '- Promotional campaign in Nepal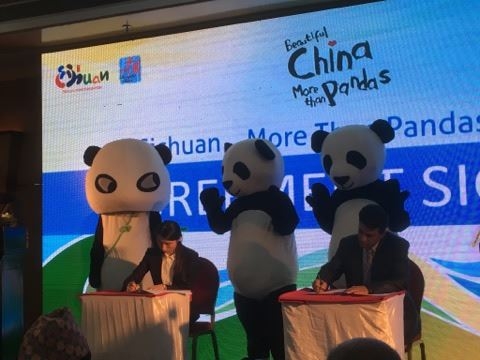 By Ramesh Tiwari / TravelBizNews —
Kathmandu: Sichuan Province of People's Republic of China plans to strengthen travel and tourism cooperation with the South Asian countries including Nepal.
The Tourism Development Commission and Tourism Administration of Sichuan have been promoting the province with the theme of "Sichuan, More than Pandas ".
Sichuan, home to not only the giant pandas, but also to a diverse, rich and unique culinary, material and artistic culture as well as breathtaking natural beauty, aims to showcase to the world its vast tourism resources in order to attract more international visitors.
Sichuan neighbors Chongqing to east, Yunnan, Guizhou to south, Tibet to west, Qinghai, Gansu and Shaanxi provinces to north. Sichuan covers the area of 486,000 square kilometers, ranking fifth in China, after Xinjiang, Tibet, Inner Mongolia and Qinghai.
There are 21 cities (prefectures) and 183 counties (districts) in Sichuan. Sichuan, located in West China with population of more than 87.5 million , is a province with abundant resources and strong economy.
Sichuan Giant Panda Sanctuaries, home to more than 30% of the world's pandas which are classed as highly endangered, covers 924,500 ha with seven nature reserves and nine scenic parks in the Qionglai and Jiajin Mountains.
A high level delegation of Tourism Development Commission of Sichuan Province is in Nepal to promote Sichan tourism products here. The delegation includes government officials, officials of Tourism Development Council of Sichuan, CITS Sichuan International Travel Service Co., Sichuan Overseas Tourist Corporation and media organizations.
Travel professionals of Nepal and Sichuan Province have signed a memorandum of understanding (MoU ) to strengthen tourism cooperation in a program held in Pokhara on March 28 .
Vice –Governor of Sichuan Province Zhu Hexin and Counsel of Tourism Development Commission of Sichuan Province Miao Yan, highlighting tourism products of Sichuan , emphasized on strengthening tourism cooperation between the two countries at a promotional program held in Pokhara.
On the occasion, State Minister for Cultur ,Tourism and Civil Aviation Parshuram Tamang stressed on attracting more tourists from China.
A total of 104,005 Chinese tourists visited Nepal including 80,553 tourists via air route and 23,452 from Rasuwa check point of Nepal-China border in 2016.
Nepal and China formally inked a sister city agreement between the capital city Kathmandu and Chengdu, the capital of Sichuan Province of China in December 2016.
Nepal's Pokhara City and Kunming of China have already established sister cities relations to promote cultural relations between the two cities through connectivity, tourism and exchanges of visits.
Earlier , a promotional program focused on " Sichuan – More than Pandas " was organized in Patan Durbar Square area performing Sichuan dances, face changing , tea and cuisine shows on March 27.
According to Managing Director of Adventure Outdoor and coordinator of the program Dr. Kalyan Raj Sharma , the promotional programs held in Kathamandu and Pokhara will strengthen tourism cooperation and encourage the Chinese tourists to visit Nepal .
Most of the Chinese tourists visiting Nepal are from Sichuan Province due to air connectivity between Kathmandu and Chengdu.
( Photos : Bobby Bimoli )
March 28, 2017