Skal International continues its industry positioning papers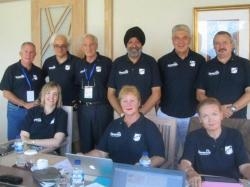 Bali : The Executive Committee of Skal International along with the Skal International Council met in Bali, Indonesia, earlier this month to discuss both internal and external matters pertaining to the organization.
States International President Mok Singh: "It is vital the leaders in our organization meet at least twice a year to discuss matters affecting our organization. These include internal issues such as membership and the rules governing our organization as well as external issues that affect the whole industry. As the largest organization in the world covering all sectors of the travel and tourism industry, it is vital we understand what is happening in our industry and more importantly take a position on many of the issues."
The meeting in Bali was extremely successful with a brainstorming seminar on membership development and the Executive Committee finalizing positioning papers on aviation and hospitality that will be circulated internally before being published to the wider industry in June.
Both the Executive Committee and International Council meet again in New York in September as part of the Skal International World Congress being held for the first time on a cruise ship – the Carnival Glory.
E-mail: skal@skal.travel , Web site: www.skal.travel