Small Luxury Hotels of the World Awards 2017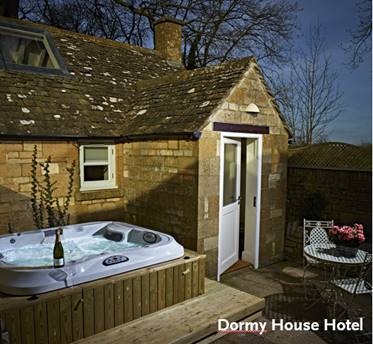 TravelBizNews —
London: Small Luxury Hotels of the World (SLH) has announced Dormy House Hotel in the Cotswolds, UK, as Hotel of the Year at the SLH Awards 2017.
Described as 'very nearly perfect', it is one of thirteen hotels in SLH's 500-strong portfolio of independently minded hotels that were honoured with awards at the luxury brand's International Conference in California recently.
The awards highlighted excellence in everything from notable staff and noteworthy suites, to their embracing of social media and the local community.
For the first time, many of the experiential categories were voted for exclusively by members of SLH's loyalty programme, INVITED, and luxury travel agents. These included the Refinery New York (City Hotel of the Year), Baros Maldives (Resort Hotel of the Year) and Dormy House Hotel (Country House Hotel of the Year), which were then put forward for the ultimate accolade – Hotel of the Year.
Meanwhile, immersive spa Lefay Resort & SPA Lago di Garda, two Michelin-starred ABaC Restaurant & Hotel in Barcelona and 137 Pillars Suites Bangkok were all deemed by SLH guests and agents to have the best spa, restaurant and suites respectively, and CastaDiva Resort & Spa on Lake Como was voted Most Romantic Retreat.
Filip Boyen, CEO of Small Luxury Hotels of the World said: "As curators of the very best small, luxury hotel experiences around the world, we are delighted to recognise these exceptional hotels that showcase our independently minded ethos in such a variety of creative, classy and culturally-relevant ways."
The full list of winners and shortlisted finalists is as follows:
· Hotel of the Year – Dormy House Hotel (UK)
· City Hotel of the Year – Refinery New York (USA)
Shortlisted Finalists – Flemings London (UK); Ca'Sagredo Hotel (Italy)
· Resort Hotel of the Year – Baros Maldives (Maldives)
Shortlisted Finalists – Pangkor Laut Resort (Malaysia); Twinpalms Phuket (Thailand)
· Country House Hotel of the Year – Dormy House Hotel (UK)
Shortlisted Finalists – Castello di Velona (Italy); Les Sources de Caudalie (France)
· Best Newcomer Hotel – Nobu Hotel Ibiza Bay (Spain)
Shortlisted Finalists – Sikelia (Italy); La Zebra (Mexico)
· Mystery Inspectors' Excellence Award – Casas Del XVI (Dominican Republic)
Shortlisted Finalists – Baros Maldives (Maldives), Dormy House Hotel (UK)
· Hotel Hero – Giovanni Sanchez, The Arch London (UK)
Shortlisted Finalists – Hannah Roberts, Foxhill Manor (UK); Suphamat Namwongphrom, akyra Manor Chiang Mai (Thailand)
· Love of Local – akyra Manor Chiang Mai (Thailand)
Shortlisted Finalists – The Betsy South Beach (USA); Pangulasian Island Resort (Philippines)
· Best Gourmet Experience – ABaC Restaurant & Hotel (Spain)
Shortlisted Finalists – The Iroquois New York (USA); Baros Maldives (Maldives)
· Best Hotel Video – Grand Hôtel du Palais Royal (France)
Shortlisted Finalists – Hotel Pashmina Le Refuge (France); Canaves Oia (Greece)
· Most Instagrammable – Owl and The Pussycat Hotel (Sri Lanka)
Shortlisted Finalists – Canaves Oia (Greece); Nobu Hotel Ibiza Bay (Spain)
· Most A-List Suite Experience – 137 Pillars Suites Bangkok (Thailand)
Shortlisted Finalists – Baros Maldives (Maldives); Ca'Sagredo Hotel (Italy)
· Most Sensational Spa – Lefay Resort & SPA Lago di Garda (Italy)
Shortlisted Finalists – Aleenta Resort and Spa Phuket (Thailand); Baros Maldives (Maldives)
· Most Romantic Retreat – CastaDiva Resort & Spa (Italy)
Shortlisted Finalists – Pangkor Laut Resort (Malaysia); Carpe Diem Boutique Resort (Greece)
Oct. 2017