South Asian Cooperation can increase GDP by $70 billion per year, create 20 million new jobs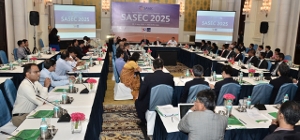 TravelBizNews —
Manila :The seven member countries of the South Asia Subregional Economic Cooperation (SASEC) launched the SASEC Vision, a new strategic roadmap to guide the subregion's development through 2025.
The SASEC Vision was announced at the SASEC Finance Ministers' Meeting in New Delhi, India on April 3.
"The inspiration for a SASEC Vision comes at a very promising time. South Asia was the fastest growing subregion in Asia in 2016, and economic activity has remained resilient despite global headwinds," Asian Development Bank (ADB) Vice-President Wencai Zhang said.
According to a statement issued by Asian Development Bank ,the new strategy will help guide countries in the subregion to accelerate growth by unlocking the potential of its natural resources, industry, and infrastructure, with the aim of helping member countries achieve the Sustainable Development Goals.
The recent inclusion of Myanmar as SASEC's seventh and newest member will further promote the subregion's ties with Southeast Asia and beyond.
The strategic roadmap will guide SASEC members in developing gateways and hubs to expand trade and commerce to regional and global markets, which can generate around $70 billion in incremental GDP annually and 20 million total jobs by 2025.
SASEC countries – Bangladesh, Bhutan, India, Maldives, Nepal, Sri Lanka, and, most recently, Myanmar – coordinate the planning of projects and activities to increase economic growth by building cross-border connectivity, facilitating faster and more efficient trade, and promoting cross-border power trade. ADB serves as the SASEC Secretariat.
Over the past 15 years, SASEC member countries have invested more than $9 billion in 46 subregional projects that have helped propel the subregion's growth and development, with ADB financing $5.6 billion of this total. In 2016 alone, ADB approved financing for nine SASEC investment projects worth $2.4 billion, including $1.2 billion worth of transport and economic corridor projects in India.
Nineteen projects for SASEC countries are indicatively planned for 2017-2019 for potential ADB funding totaling some $3.6 billion. These projects will focus on transport, energy, trade facilitation, and economic corridor development.
April 4 , 2017