Southeast Asia top choice for Chinese outbound tourists during holiday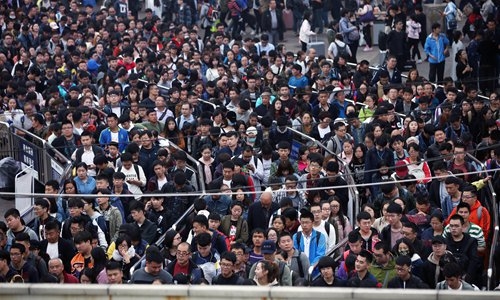 Beijing ( Xinhua ) : Southeast Asian countries remain top destinations for Chinese outbound tourists during the National Day holiday, according to the China Tourism Academy.
Monitoring data from the academy showed that Thailand, Singapore, Vietnam, Malaysia, Indonesia and the Philippines are among the 10 most popular destinations for outbound travelers during the holiday from Oct. 1 to 8, said Dai Bin, head of the Academy.
Over 45 percent of the travelers chose Southeast Asian countries, Dai said. He attributed the boom to a rapidly increasing number of flights between China and its southeastern neighbors and the latter's favorable visa policies for Chinese tourists.
Among the 10 ASEAN (Association of Southeast Asian Nations) members, nine offer visa-free or visa-on-arrival policies for Chinese tourists. More than 2,700 flights fly between China and ASEAN countries every week.
In 2016, more than 30 million trips were made between China and ASEAN countries, compared with 10 million in 2011. The two are each other's largest overseas tourist destinations and largest sources of tourists, said a report on bilateral tourism cooperation issued in September.
2017 marks the China-ASEAN Year of Tourism. Promoting regional economic integration through tourism is part of the theme of the 14th China-ASEAN Expo held in Guangxi last month.
Tourism booming during China's National Day holiday
Likewise , tourism has been booming in China during the National Day holiday, benefiting the economy of China and many other countries, official data showed.
One of China's two Golden Weeks, the National Day holiday saw a surge in tourist revenue along with passenger flows. This year the holiday was extended by one day as the Mid-Autumn Festival, also known as the Moon Cake Festival, fell on Oct 4.
A total of 705 million tourists traveled around the country during the holiday, generating 583.6 billion yuan (about $87.7 billion) of revenue, the China National Tourism Administration (CNTA) said. The two figures represented increase of 11.9 percent and 13.9 percent year-on-year respectively, the CNTA said.
Provinces with major scenic spots have seen rising numbers of tourists, with southwestern Guizhou having hosted over 46 million tourists who spent 30.5 billion yuan during the eight days, up 42.1 percent and 43.5 percent year-on-year respectively, said the CNTA.
Inner Mongolia in north China was visited by 106.2 million tourists who spent 8.3 billion yuan, up 24.5 percent and 38.3 percent respectively.
Most Chinese have chosen to indulge in food, cultural and rural tourism this year. Theme parks, museums and traditional culture streets have also seen an obvious growth in the number of visitors, according to the CNTA.
The booming tourism was accompanied by busy traffic. Take railway as an example, over 110 million trips by railway have been made since the holiday travel rush started on Sept 28, the China Railway Corporation (CRC) said.
The CRC scheduled thousands of extra trains during the holiday to ensure smooth travel. Likely, airports have seen a growing number of passengers, and highways have been burdened by more vehicles.
The economic impacts of China's mobile population have also been felt worldwide as more Chinese have opted to travel overseas.
Data compiled by the CNTA showed that about 6 million Chinese from nearly 300 cities traveled to 1,155 cities in 88 countries or regions during the National Day holiday.
Russia was the most popular destination for Chinese tourists, followed by Thailand, Vietnam, Singapore and Malaysia, while Moscow was the most popular city, followed by St. Petersburg, Bangkok, Pattaya, and Singapore, the CNTA data showed.
At a time when traditional growth drivers are losing steam, China has pinned hopes on services, including tourism, for new impetus to drive consumption and employment, and support economic growth and restructuring.
China's domestic tourism industry earned about 3.9 trillion yuan in 2016, and the country plans to raise tourism revenue to 7 trillion yuan by 2020.
The nation will work to develop tourism into a major driver of economic transformation. By 2020, investment in tourism is expected to grow to 2 trillion yuan, and the sector will contribute more than 12 percent of GDP growth, according to a State Council five-year tourism plan (2016-2020).
October 9 , 2017