Spain hosted 75 million foreign tourists in 2016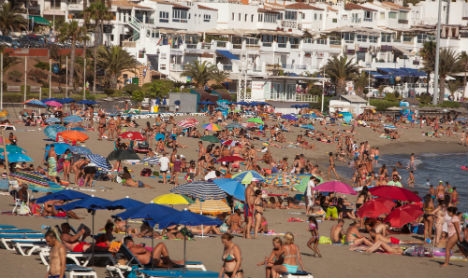 Madrid: Spain hosted nearly 75 million foreign tourists last year, ten percent more than visited the world's third most popular destination in 2015, the United Nations World Tourism Organisation said .
"More than 74, probably 75 million international travellers have come to Spain" in 2016, the Madrid-based body's secretary general, Taleb Rifai, told a news conference. UNWTO predicts international tourism grew by 4.0 percent last year.
Spain welcomed just over 68 million visitors in 2015, making it the world's third most visited nation after France and the United States.
Spanish tourism executives credit security fears in competing sunshine destinations across the Mediterranean and in the Middle East for the rise in visitors to Spain's shores but Rifai rejected this theory.
"Spain did well because Spain is doing the right thing" in terms of how it promotes itself as a destination and welcomes visitors, he said.
Each visitor to Spain spent an average of €800 ($842) during their stay, a figure that is comparable to the global average, said Rifai. They spent a total of over €60 billion in the country in 2016, he added.
Exceltur, which groups the country's major hotel chains, travel agents and tour operators, warned last year average revenues per person had fallen by between two to six percent, depending on the month, because tourists had shortened the length of their stay.
It also warned of a tourism "bubble" in the country which could burst and said certain destinations like Barcelona and the Balearic islands, were reaching a saturation point that could turn off visitors.
Tourism provides some 11 percent of Spain's economic output.
Source : AFP , January 2017