Sri Lanka Tourism to take Tea theme at WTM 2015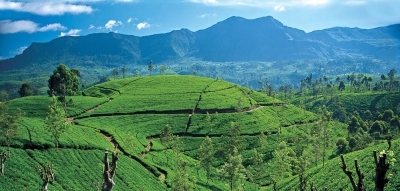 TravelBizNews —
Colombo : Sri Lanka Tourism Pavilion taking a cutting edge position of a Tea theme will include the launch of Loolkadura- where the 1st tea bush was planted by James Taylor and Dabatenna estate of Lipton fame will be announced as World Heritage sites submissions for UNESCO certification apart from show casing the 8 wonderful experiences in 8 wonderful days during World Travel Mart 2015.
The leading travel industry event staged annually in London- World Travel Mart attracts around fifty thousand tourism professionals which recorded an $244 million for the British economy and deal making at $2.5 billion dollars plus globally.
Sri Lanka tourism together with the private sector will be making a strong statement given the 16.8% cumulative growth and 31.2% growth in visitor arrivals in July said Dr. Rohantha Athukorala.
The Guinness Record bid of plucking 1000kg by amateurs in Nuwara Eliya and serving 35000 cups of tea at the Esala Perahera in partnership between Sri Lankan airlines, Sri Lanka tea board and APOT will add to the statement we will make from the Sri Lanka tourism Pavilion ,'said Market Head for UK Chameera Peiris.
'We must find creative ways to make Sri Lanka Tourism cut through the aggressive competition apart from the Beaches that we are known for as we are up against stiff completion given that a typical British traveller googles island nations like North Atoll Male, Seashells as per the latest consumer insights of Trip Advisor. We must attract the top spending potentials British traveller as even now almost 22% of the revenue from tourism come from UK ',said Peiris.
As at July Sri Lanka has attracted 93,223 visitors at a growth of 12.6% and targeting two hundred thousand guests which accounts for higher revenue per traveller than any other destination according to a report published in news.lk.
Sri Lanka Tourism took a wild life theme at the Arabian Travel Mart(ATM) this year in Dubai and a Festival- Esala Perahera theme at KOTFA- Seoul, Korea.
"WTM – London will showcasing around 200 countries and 5,000 exhibitors which gives indicates the entrenched competition that exists in the market so we must find unique ways to bring out the DNA of the country- Diversity, Authenticity and Compactness ,"said Chairman Dr Athukorala.
Aug 20, 2015