Storm on Annapurna prompts blizzard of promises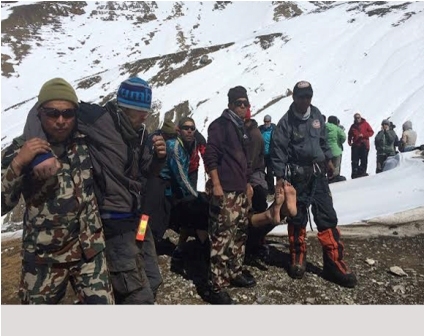 Ed Douglas ———————–
The death toll from mid October's snowstorm in the Annapurna region now stands at 43, after rescue teams recovered the bodies of three Nepalis from the Thorung La last week. In the shadow of Nepal's worst tourism tragedy, the authorities are promising a radical overhaul of how trekking is practised there. But will anything really change? Ed Douglas reports.
It was, according to the Himalayan Rescue Association, the largest trekking and climbing rescue operation yet conducted in the region. The authorities say 514 people were rescued during 70 helicopter sorties flown to rescue the injured and stranded. That isn't the kind of record Nepal's tourism industry was hoping to set.
Even now, two weeks after an unseasonal storm dumped feet of snow on Nepal's most popular trekking area, it's possible the death toll will rise again; Nepalis aren't required to register to work in the region and there may be some locals who have not yet been reported missing.
Although headlines focussed on dead foreign nationals from Canada, Israel, India, Japan, Poland and Slovakia, the majority of those who died were Nepali trekking and expedition workers. Many of them lacked any kind of training and were poorly equipped.
Stung by criticism in the world's media about its competence, the Nepali government's response has been to promise an overhaul of regulation and infrastructure. "At present we are seeing that nobody is following the rules," said Yadav Koirala, joint secretary of disaster management. "There is faulty mechanism at every level."
Yet there has been no formal investigation to establish what actually happened or any consultation with those in the trekking industry who know what they're doing. Instead, officials have made a series of policy decisions on the hoof – decisions that could, if implemented, have a dramatic impact on trekking in Nepal without improving safety.
In the immediate aftermath, attention focussed on lack of information about a storm whose track had been predicted for days. Ngamindra Dahal, a climate expert at Kathmandu University, told The Guardian that Nepal's meteorological office had issued warnings of high winds and heavy rains. "Farmers were told about it. It was in the media. So this was not unexpected."
At first, Nepal's chief civil servant blamed inaccurate forecasts. Then Nepal's natural disasters ministry – the focus for planning for a long anticipated earthquake in the Kathmandu area – said police posts in the Annapurna region were contacted but that the message arrived too late. Finally, prime minister Sushil Koirala promised a system of weather alerts that will reach lodges on the trail as well as police posts.
The self-criticism didn't end there. Dipak Amatya, who announced an ambitious programme promising scores of new shelters on popular trekking trails, told Reuters: "There is no point blaming the hostile weather for the disaster. I blame our entire mechanism because it is our responsibility to protect tourists and Nepali citizens."
How that mechanism should be fixed has quickly become a matter of controversy. Without pausing for any kind of enquiry into the tragedy, Mohan Krishna Sapkota, a spokesman from the tourism ministry, blamed poorly equipped tourists who didn't follow the rules, complaining that many in the Annapurna region didn't have trekking permits. Several officials expressed surprise at the number of unregistered tourists in the area.
"This will not be tolerated anymore," Sapkota said. "It is better to have less tourists who pay more. This kind of irresponsible tourism will ruin Nepal's image."
Little attention has been paid so far to the problem of mainly young backpackers being ignorant of the potential hazards they face trekking at high altitude. Many of those caught up in the storm reported meeting people in a state of hypothermia because they weren't properly equipped. No mention has been made so far in Nepal in how to educate tourists who aren't regular mountain walkers.
The ministry of tourism instead announced that trekkers will now be required to hire properly qualified guides, something the Trekking Agents' Association of Nepal (TAAN) have been demanding for some time. TAAN's president Ramesh Dhamala has even said that the ratio of trekkers to guides should be one to one, a demand that has little chance of being taken seriously.
On top of that Dhamala himself acknowledges that "guides are not properly trained and many lack safety ideas on how to respond to such situations." If trekkers are required to have local guides, where will they come from?
Nepal's mountaineering guides association has benefitted in recent years from its membership with the IFMGA. Perhaps the time has come for the equivalent mountain walking associations to make similar contacts with Nepal's trekking association to restore confidence.
TAAN itself must take some responsibility for the creaky reputation of Nepal's trekking industry. Six years ago, TAAN succeeded in prising the trekking permit scheme away from the government. All trekkers are required to have a trekking permit costing $20. There were more than 130,000 trekkers in the Annapurna region alone last year, generating revenue of $2.6m.
Money raised from the Trekking Information Management System card is split between administration costs, porter training and insurance and improvements in infrastructure, including porter shelters to improve safety in the mountains. Little of this work has yet been done.
Several tourism agencies in Kathmandu have already condemned the ministry's plans to restrict the number of trekkers by making guides mandatory, and the Himalayan chronicler Liz Hawley said she doubted that the government would follow through. "I will not be surprised if this tragic incident is quickly forgotten." That will be the most depressing outcome of all. Source : British Mountaineering Council
October 28 , 2014