Strong earthquake hits Sichuan, Xinjiang of China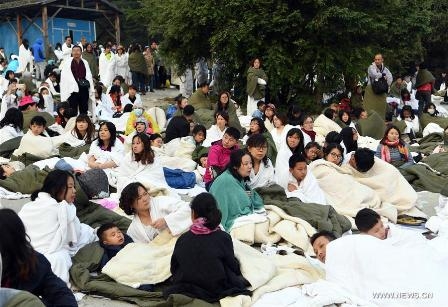 Chengdu: Death toll from a 7.0-magnitude earthquake that struck a remote area in southwest China's Sichuan Province Tuesday night has risen to 13.The earthquake had also left 175 others injured.
The quake jolted Jiuzhaigou County, a popular tourist destination at a depth of 20 km.
Some houses in the scenic spot collapsed and cracked in wake of the powerful quake, Xinhua reports.
The quake was also strongly felt in the provincial capital Chengdu about 300 km south of the epicenter.
Jiuzhaigou, or Jiuzhai Valley, is a national park known for spectacular waterfalls and karst formations.
Meanwhile , Chinese President Xi Jinping has called for all-out efforts to rapidly organize relief work and rescue the injured people after a 7.0-magnitude earthquake hit southwest China's Sichuan Province.
As the earthquake took place during the flood period and tourism season, authorities should enhance meteorological early warning and geological monitoring to guard against other disasters and try their best to protect people's lives and property, Xi added.
Premier Li Keqiang also urged local authorities to go all out in relief and monitoring work.
China's cabinet, the State Council, has sent a national work team to the disaster-hit area to guide relief work. Local governments have activated top-level emergency response procedures.
Similarly, a 6.6-magnitude earthquake jolted Jinghe County in Bortala Mongolian Autonomous Prefecture in northwest China's Xinjiang this morning.
Residents in the regional capital of Urumqi, cities of Karamay and Yining, some 400 km to 200 km away from Jinghe, felt strong tremors.
Most people in Urumqi were sleeping when the quake occurred. Northwest Xinjiang's Jinghe County has a population of about 140,000.
-Inputs from Xinhua
Aug 9, 2017