THAI Airways celebrates 50th Anniversary of Bangkok- Kathmandu Route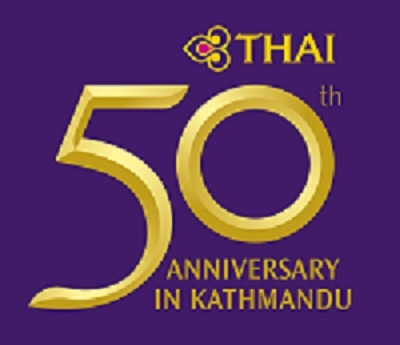 TravelBizNews Reporter —
Kathmandu: Thai Airways International celebrated its 50th anniversary of operation into Nepal amidst a ceremony attended by high ranking officials of Thai Airways , diplomats , officials of Nepal government , travel and tour operators.
THAI started its first flight to Nepal on December 4 , 1968 and is the first ever passenger jet service airline to introduce Nepal to rest of the world.
THAI operated once a week flight in the beginning, which soon increased due to high demand. The airlines started daily flights with A300-800 aircraft in October 1997, and introduced B777-200 from November 1998 to support visit Nepal Year 1998.
Thai Airways became the first airlines to introduce computerized reservation system in Kathmandu in February 1985, and provided this facility to its leading travel agents since 1990.
THAI has continuous expansion at route serving new destinations/network, its own Silk Class Lounge, own Ground Handling services, Royal Orchid Holidays (ROH) packages, own technical handling services, and the first in-flight magazine -Sawadee.
THAI has also been carrying out regular CSR activities like blood donation, cataract surgery camps, cardio check up and health camps, and stationary distributions to orphanage schools every year.
Thai has given Token of Appreciation Award to The Royal Thai Embassy in Nepal, Civil Aviation Authority of Nepal, Tribhuwan International Airport Authority, Nabil Bank and Hotel Annapurna. THAI has also felicitated the top three finalists of Miss Nepal.
THAI Airways plans to celebrate its golden jubilee throughout 2018 with various promotional activities in Nepal ,according to the carrier.
Thai Airways is a member of Star Alliance network. The network was established in 1997 as the first global airline alliance to offer worldwide reach, recognition and seamless service to the international travelers.
Thai Airways International Public Co,.ltd is a national enterprise subordinated to the Ministry of Transport of Thailand . It is a public company registered in the Securities Exchange of Thailand since 1991 with the Ministry of Finance as a dominance shareholder at more than 50 per cent.
THAI Airways , established in 1960 , merged with Thai Airways International in 1988.
Dec 4 , 2017