Thailand Travel Mart 2016 opens in Chiang Mai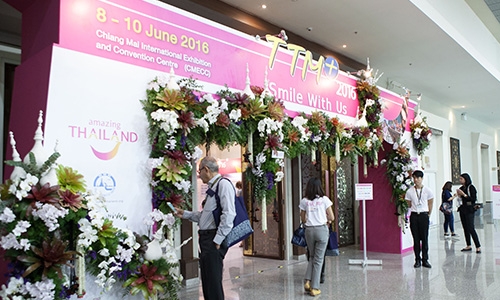 Chiang Mai ( TATNews) – The Thailand Travel Mart 2016 Plus Amazing Gateway to the Greater Mekong Subregion (TTM+ 2016) opened today in Chiang Mai, the northern capital of Thailand, with more than 850 delegates from 55 countries.
The three-day event, the largest travel trade show of its kind in Thailand, is being held from 8-10 June, 2016, at the state-of-the-art Chiang Mai International Exhibition and Convention Centre (CMECC).
The decision to hold the TTM+ in Chiang Mai was a very strategic one because the entire North and Northeast Thailand region is set to become a major bridgehead between Thailand and its neighbouring countries of Cambodia, Lao PDR., Myanmar, and Vietnam.
Celebrating the launch of the ASEAN integration that took effect this year, the TTM+ 2016 will see senior tourism executives of Thailand, Cambodia, Lao PDR., Vietnam, and Myanmar hold a joint press conference to discuss the theme, "CLMVT Link: Prosper Together."
Mr. Yuthasak Supasorn, Governor of the Tourism Authority of Thailand (TAT) said, "I am very excited to have the opportunity to personally meet everyone who's anyone in Thailand's travel industry scene, especially our overseas partners. This will be my first TTM+ since I assumed the TAT governorship in 2015. In planning this year's event, we had promised to make it unique, different and distinctive. The unique content indicates that this objective will be achieved."
Now in its 15th consecutive year, the TTM+ is being held under the theme, "Smile with Us", which reflects friendship, enjoyment, happiness and hospitality. It is in line with the new logo of "Amazing Thailand", which represents the most well-known characteristic of Thainess – the Smile.
In January-April 2016, Thailand's visitor arrivals surged to a record 11.7 million, up by 14.12 percent over the same period of 2015, according to figures published by the Ministry of Tourism and Sports. China continues to grow as the top source of visitor arrivals with 3.44 million arrivals, up by 27.35 percent over the same period in 2015.
Visitors from East Asia and ASEAN totalled 7.63 million , Europe 2.52 million , the Americas 502,627 , South Asia 459,157 , Middle East 226,973 , and Africa 51,566 . ( Source : Tatnews.org)
June 8 , 2016.