The Torch Doha revolutionizes the luxury hospitality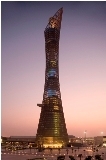 Doha : The Torch Doha Member of Leading Hotels of the World geared for new Technology and introduced the in-Room iPad Solution for the first time in the Middle East.
Throughout the years The Torch became an iconic landmark of Qatar. Its first year of operation marked the visit of sports personalities and world class football teams. Located in the middle of Aspire Zone – Doha's Sports City, The Torch is the premier venue for those who are searching for state-of-the-art sporting, leisure and rehabilitation facilities.
General Manager of The Torch, Mr. Gerhard Foltin declares "The hotel concept is captivating: the rooms with their top feature – the new iPad solution, the revolving restaurant with its panoramic views and the cantilevered pool, highest in Doha are some of the main attractions. Not last is the hotel's iconic silhouette standing high on Doha's skyline. We had to focus on keeping our service standards high, to match the rich design and technology concepts."
The recent introduction of the In-Room iPad Solution highlights the hotels' preoccupation for subtle hi-tech features which allow for speed of service and better communication between guests and staff members. It is one of the room's top features allowing guests complete autonomy with a simple tap on the screen, from lights operation, Internet access on TV and on iPad, music and radio control, curtain and room temperature control and direct order from in-room dining. To accommodate with guests' preferences, the hotel takes note of pre-arrival requests which are adjusted from the iPad itself e.g. lights and room temperature preferences. All 163 room and suites feature interactive LED TVs and mood lighting system with a selection of 12 different colors according to PR Dept. of Torch Doha.
"We are aware that technology plays a vital role in enticing the luxury travelers and encourages them to choose between properties, return to the same property and recommend us further to others. They have become more informed and discerning lately. And this is why we always try to keep them entertained and engaged with our service. We have designed our public areas with comfortable sofas, interactive screens, live TV and complimentary Wi-Fi so that guests spend time socializing and working", Foltin reveals.