World's Best Bars 2014 , Artesian named best bar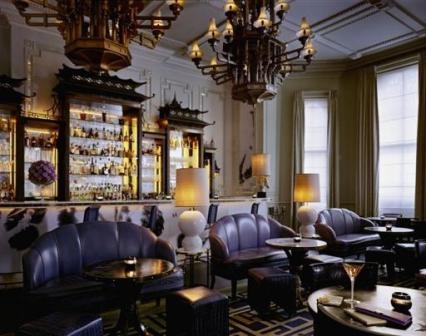 London – Artesian at the Langham Hotel has been named the world's best bar for a third consecutive year at Drinks International's World's 50 Best Bars ceremony in London, after beating off competion from New York's The Dead Rabbit Grocery & Grog.
Three London and three New York bars made up the top ten. Completing the top five, Nightjar finished in third while New York's Attaboy – the Highest Climber for 2014 – catapulted from 42nd to fourth place and Employees Only took fifth.
The results were announced by cocktail historian David Wondrich and drinks commentator, Tom Sandham at The World's 50 Best Bars awards ceremony held at Christ Church, Spitalfields tonight (9 October) before a 500-strong crowd of the world's best bartenders, bar owners and industry experts.
The World's 50 Best Bars is an independent poll, voted for anonymously by 334 industry professionals from 46 countries.
Artesian, one of eight London bars to make the list, takes the title of both the Best Bar in Europe and the World. The Dead Rabbit Grocery & Grog climbed three places to claim the world's second best bar and best bar in North America. Highest New Entry was awarded to Canon. The Seattle bar enters the list for the first time in sixth place.
The Baxter Inn leapfrogged Black Pearl to clinch Best Bar in Australasia this year and High Five, from Tokyo, retains the Best Bar in Asia for a second year. Floreria Atlantico is again Best Bar in Latin America, finishing in 39th place.
Imperial Craft, though outside of the top 50, rounded off the six regional awards with Best Bar in Africa & the Middle East. The Tel Aviv bar replaced Zuma Dubai to take the title.
Twenty one of the bars were European, 16 North American, six Australian, four Asian and three Latin American.
There were 14 new entries this year – Chicago's Aviary (13th), Elephant Bar at The Nomad (14th); London's White Lyan (20th); The Broken Shaker, Miami (22nd); Hemingway Bar, Prague (24th); Three Dots & A Dash, Chicago (27th); Trick Dog in San Francisco (33rd); Star Bar Ginza (40th); Cure in New Orleans (43rd); Amsterdam's Tales & Spirits (44th); Maison Premiere in New York (45th) and Williams & Graham in Denver (50th) according to worlds50bestbars.com.
October 14 ,2014