Thirteen Outrigger Properties awarded 2014 TripAdvisor Certificates of Excellence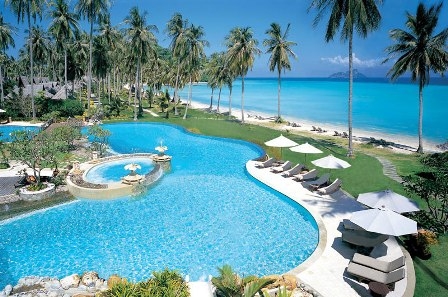 Phuket : Outrigger Enterprises Group announced that thirteen of their properties across the world have been awarded a TripAdvisor "Certificate of Excellence" for 2014.
Establishments that consistently receive excellent traveler reviews on TripAdvisor are recognized and awarded for their high standard of service. Only the top 10% of businesses listed on TripAdvisor receive this prestigious award.
"Winning the TripAdvisor Certificate of Excellence is a true source of pride for the entire team at Outrigger Enterprises Group and we'd like to thank all of our past guests who took the time to complete a review on TripAdvisor," said Sean Dee, executive vice president and chief marketing officer. "There is no greater seal of approval than being recognized by one's customers," Dee said.
To qualify for a Certificate of Excellence, businesses must maintain an overall rating of four or higher out of a possible five, as reviewed by travellers on TripAdvisor, and must have been listed on TripAdvisor for at least 12 months. "TripAdvisor is pleased to honor exceptional hospitality businesses for consistent excellence," said Marc Charron, president of TripAdvisor for Business.
The Outrigger branded and affiliated hotels that received the Certificate of Excellence for 2014 include:
Thailand
Outrigger Laguna Phuket Beach Resort
Outrigger Laguna Phuket Resort and Villas
Outrigger Phi Phi Island Resort and Spa
Australia
Outrigger Twin Towns Resort
Outrigger Little Hastings Street Resort and Spa
Fiji
Outrigger on the Lagoon Fiji
Castaway Island, Fiji
Hawaii, Oahu
Outrigger Waikiki on the Beach
Outrigger Reef on the Beach
Holiday Inn Waikiki Beachcomber Resort Hotel
Embassy Suites Waikiki Beach Walk
Hawaii, Kauai
Outrigger Waipouli Beach Resort
Hawaii, Maui
The Kapalua Villas Maui
Hawaii Island
Outrigger Fairway Villas
Outrigger Kanaloa at Kona
Meanwhile, three award-winning Outrigger resorts in the greater Phuket area of southern Thailand are offering summer savings of up to 30%. The limited period promotions must be booked before 30 June 2014 and are valid for stays up to 30 September 2014.
Outrigger resorts are known for spacious facilities, friendly host staff, a wide choice of lifestyle activities and delicious food.
The Outrigger Laguna Phuket Beach Resort is a beachfront property on Bang Tao beach, 20 minutes from Phuket international airport. It has three acclaimed restaurants, a kids' club and a tennis centre.
The Outrigger Phi Phi Island Resort and Spa is an absolute beachfront resort on a quiet and idyllic bay on Phi Phi Island, a 90-minute boat ride from Phuket.
The Outrigger Laguna Phuket Resort and Villas offer very spacious modern suites adjacent to the swimming pool, gym, kids' centre and Panache restaurant. The property is a 10-minute trip away from Bang Tao beach and only 20 minutes from the airport.
For more info : outrigger.co.th.