Tibet receives 1.4 mln tourists during Shoton Festival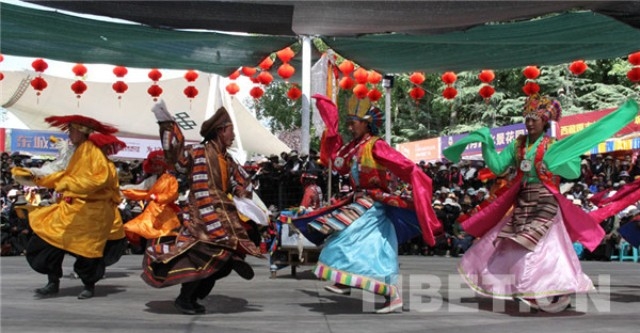 Lhasa : A total number of 1.4 million tourists have visited Tibet during the Shoton Festival, which was wrapped up on August 31, in Lhasa, capital city of SW China's Tibet Autonomous Region.
It is reported that the number of tourists has increased by 16.08 percent year on year. And during the Shoton Festival, Lhasa has realized tourism revenue receipts of 378 million yuan, a 32.16 percent rise as opposed to the previous year. 86 cooperation projects totaling 16.6 bln yuan were signed at the economy and trade fair during the festival.
Themed "Beautiful Homeland, Happy Lhasa", the 2014 Lhasa Shoton Festival features Buddha painting unfolding, Tibetan opera competition, Thangka fair and other cultural and religious activities of strong Tibetan ethnic characteristics.
The Shoton Festival is second only to the Tibetan New Year round the year. Literally translated, it means "yogurt tasting" festival in the Tibetan Language. In May, 2006, it was inscribed on the Chinese intangible cultural heritage list , China Tibet Online reports.
According to Xinhua , the week-long event, deemed the second most important Tibetan holiday, saw a 16 percent increase in visitors from home and abroad compared with the previous year, said Nyima Cering, who heads the festival's organization office.
An additional 136,000 people, about 50,000 more than last year, joined the "sunning of the Buddha" ceremony in the 600-year-old Drepung Monastery. Gathering on the outskirts of Lhasa at the largest monastery for Tibetan Buddhism's Gelug Sect, the crowd prayed to a giant portrait of Sakyamuni.
An exhibition on Thangkas, or Tibetan painting scrolls, a photography show, performances of traditional Tibetan opera, and a cooking competition of Tibetan food were also held during the festival.
The event was originally a religious occasion, when local people would offer yogurt to monks who had finished meditation retreats. It has been held since the 17th century. – China Tibet Online / Xinhua
Sept. 1 , 2014