Tourism industry threatened in Florida, Caribbean in wake of Irma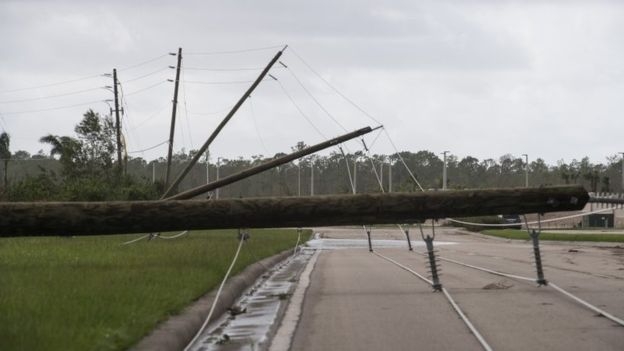 New York ( Reuters) : Hurricane Irma's path of destruction up Florida's Gulf Coast threatens to disrupt a thriving state tourism industry worth more than $100-billion (U.S.) annually just months ahead of the busy winter travel season.
Some of the state's biggest attractions have announced temporary closures, including amusement park giants Walt Disney World's Magic Kingdom, Universal Studios, Legoland and Sea World, which all planned to close through Monday( Sept. 11).
About 20 cruise lines have Miami as a home port or a port of call, according to the PortMiami website, and many have had to move ships out of the area and revise schedules.
Carnival Cruise Lines and Royal Caribbean have cancelled and revised several sailings as a result of the storm and have offered credits and waivers on trips where passengers are unable to travel.
Irma made a second Florida landfall on Sunday on southwestern Marco Island as a Category 3 storm bringing winds of 185 kilometres an hour and life-threatening sea surge.
Florida is one of the world's top tourism destinations. Last year nearly 113 million people visited the state, a new record, and spent $109-billion, state officials said earlier this year. The first half of 2017 was on track to beat that record pace, officials said.
The damage Irma's winds and storm surge do to Florida's 1,060 km of beaches and the structures built along them during more than 30 years of explosive population growth will be critical to how quickly the state's 's No. 1 industry recovers. The Gulf beaches west of St. Petersburg and Clearwater, are squarely in the storm's path.
In 2016, more than 6.3 million people visited Pinellas County, which encompasses those cities, and generated more $9.7-billion in economic activity.
Up and down the wide, sandy beaches of Pinellas County are traditional "old Florida" waterfront hotels such as the Don Cesar, a coral-pink 1920s hotel on St. Pete Beach, which was closed by the storm. There are also modern high-rises and resorts that are part of the country's biggest chains and brands including Hyatt Hotels, Marriott International, Intercontinental Hotels Group, Hilton Hotels & Resorts and Ritz-Carlton Hotel Company.
Meanwhile, the hurricane's deadly tear through the Caribbean will hobble that region's multibillion dollar tourism industry for months, just as hotels, airlines and cruises were gearing up for the region's peak winter season.
As one of the most powerful Atlantic storms in a century, Irma has killed at least 29 people, leaving hotels, airports and other buildings damaged or flattened across prime vacation islands such as Saint Martin and Barbuda.
Jack Richards, president of U.S.-based tour operator Pleasant Holidays, said it may be well into next year before the local tourism industry begins to normalize, costing it billions of dollars in lost business. The region's busiest travel season runs from mid-December to Easter, when Canadians, Americans and Europeans leave behind snow and cold for the warm, turquoise Caribbean waters.
In 2016, foreign visitors spent $31-billion in the Caribbean and were expected to spend an additional 5.3 per cent in 2017. The World Travel and Tourism Council estimates that in 2016, travel and tourism contributed $56-billion in gross domestic product.
Sept. 11,2017