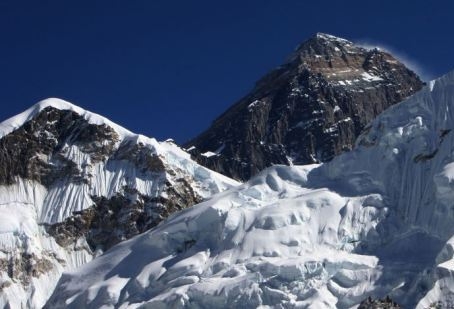 By Ramesh Tiwari —————————
A group of more than 25 climbing guides, mostly Sherpas , were heading to Camp 1 of Mt. Everest at about 6.30 AM on April 18, 2014 making the route and fixing ropes for foreign mountaineers to reach the summit. Suddenly, a dreadful avalanche at an elevation of 5,800 meters nearby a narrow climbing pass known as the 'popcorn field 'swept away some of the Nepali climbers . Everest Base Camp is at an altitude of 5,350 meters (17,600 feet) while Camp 1 is at about 5,900 meters (19,500 feet).
After the avalanche swept away some of the climbers there, so many guides, rescuers and climbers rushed to the avalanche site from Everest base camp. Altogether 13 Nepali climbers were killed, four injured and three missing in the disaster of Black Friday.The worst recorded disasters on Everest were on May 11, 1996 , when eight climbers lost their life and six Nepali guides were killed in an icefall in 1970.
Nepal lost brave heroes of mountaineering in the dreadful avalanche 2014. The deceased climbers were – Dorjee Khatri, Ashman Tamang , Aa Kaji Sherpa, Ang Chhiri Sherpa , Chhiring Ongchu Sherpa, Dorji Sherpa , Lakpa Tenzing Sherpa , Nima Sherpa , Mingma Nuru Sherpa , Pasang Karma Sherpa , Phurba Ongyal Sherpa , Phur Temba Sherpa and Tehn Dorji Sherpa while the missing climbers are Aash Bahadur Gurung, Pem Tenzi Sherpa and Tenzing Chhotar Sherpa.
Sixty one years ago on May 29, 1953 Edmund Hillary and Tenzing Norgay first set foot on the summit of Mount Everest. The successful ascent of Mt. Everest was the beginning of a long march to 8,848 m. high Everest for mountaineers all over the world. During more than six decades of first ascent, a total of 4,412 mountaineers have successfully reached the top of Mt. Everest.
The world's highest mountain has claimed lives of more than 250 mountaineers after George Mallory and Andrew Irving disappeared in 1924 in the Everest region .George Mallory, summed up the allure of Everest before his fatal attempt to climb it in 1924: "Because it's there". So many summiteers have created a history of their adventures in the annals of mountaineering in the last six decades.
Mountaineer and senior expedition leader Arnold Coster , married to Maya Sherpa , recently wrote on disastrous avalanche of 2014 – "We ran out of options, all the major teams left, so there is nobody to cooperate with anymore. Also the political tensions are too high, which make continuing impossible. We helicoptered out some of our gear that was left in Camp 1 & Camp 2. I want to thank our Sherpas for their efforts, they were there for us all the time; even when they all lost friends in the avalanche. Although the mountain is not officially closed I got the following answer from a government: Everest is open, but closed……"
Hundreds of climbers have returned to their countries after abandoning plans to ascend Everest from the Nepal side after the avalanche. The mountaineers, who are permitted to scale Mt. Everest this season, don't need to take another permit for five years. Though the government has not officially declared a halt to this year's expeditions and encouraged climbers to continue their expeditions, the climbers abandoned their journey dreaming to scale Everest in the coming years.
Yes, there are no more expeditions to Mt. Everest this season. At a time when almost all the mountaineers have cancelled their expeditions this spring season, two foreign mountaineers, from the United States and China, returned to Everest flying by helicopter partway up the peak before starting their ascent on May 13.
According to the reports, the two climbers hired a helicopter that flew them above the Khumbu Icefall .The use of helicopter to fly to Camp 2 is an example of commercialization of Mt. Everest and should be controlled to preserve the pristine Himalayas.
Despite controversy of using helicopter, Chinese woman 40 – year- old Ms. Wang Jing , team member of Himalayan Experience Everest 2014 , successfully climbed Mt. Everest on May 23, 2014 accompanied by five high altitude Nepali guides. She is the first person to climb Everest from Nepali side since an April avalanche killed 16 climbing guides .
A total of 334 climbers from different 41 countries affiliated to 32 expedition teams were supposed to climb Everest this spring season. Unfortunately they were compelled to cancel plans to ascend Everest from Nepal side, the easiest and most popular route to the world's highest peak Mt. Everest. The expedition teams that lost their Sherpa guides in the avalanche decided to call off their attempt to scale the world´s highest mountain this year.
Climber Tim representing Peak Freaks reported immediately after deadliest avalanche on April 18, 2014 – ' Six Sherpas are dead and 9 people missing. Helicopters are flying up and down doing rescues of stranded climbers and long line lifts of the dead Sherpas. As many as 100 climbers were stranded above broken ladders that are being evacuated down to camp. ..This event has sent shivers throughout Khumbu. Everyone is rattled by this tragic event…The press has been reporting that the Sherpas were fixing the route with rope as released by the Ministry of Tourism Nepal, the reality is that the route had already been fixed to Camp 1 and Sherpas were just starting to haul the mountainous loads of upper mountain rope, equipment like tents, stoves, oxygen, fuel and so on up to stock camps. '
The deadly avalanche has raised so many questions on safety and security of the expeditions .Some of the mountaineers have dubbed April 18 as a black day in the history of Everest expeditions. As the nation was mourning the tragic death of climbers, the relatives and well wishers of the Sherpas accused the government of being apathetic toward the families of deceased climbers.
On the contrary, Minister for Tourism and Civil Aviation Bhim Acharya claimed that government is committed to support the family members of the deceased climbers. A team of Ministry of Tourism including the representatives of Nepal Mountaineering Association (NMA), Trekking Agencies Association of Nepal (TAAN), Himalayan Rescue Association (HRA), Expedition Operators Association (EOA) and Nepal National Mountain Guide Association (NNMGA) among others visited the base camp to get detail information of the disaster.
Keeping in view the demands submitted by the climbers at Everest Base Camp, the government of Nepal announced to provide Rs 1.5 million to each family of Sherpa guides who lost their lives in the recent Mt Everest avalanche. The government decided to contribute 30 percent of the royalty collected from the mountain for Village Development Committee (VDC) and 5 percent of the amount for Mountain Relief Fund. As per the decision, the insurance amount of one million is raised to 1.5 million for the Sirdar, mountain and high altitude workers and medical insurance to NRs.400 thousand.
Besides, decisions concerning construction of a memorial park in memory of dead and missing mountaineers, management of new opened peaks and subsidy for livelihood and education of the children of the deceased climbers were made in accordance with the demands of the families and climbers. More than 3,000 Sherpas are involved in different expeditions as climbing guides and high-altitude workers in the Khumbu region of Nepal.
Minister for Culture, Tourism and Civil Aviation Acharya , addressing the Parliament on April 25 , said the government will provide Rs 1million as insurance and Rs 500,000 as relief amount to each family of the climbers. The government agreed to set up a permanent fund to educate the children of the Sherpa victims and assist in construction of a memorial park.
According to President of Nepal Mountaineering Association (NMA) Ang Tshering Sherpa, NMA handed over Rs 50,000 to the families of deceased and missing climbers and Rs 35000 to the injured climbers as an immediate relief. NMA decided to give Rs 1 lac to each family of the deceased climbers to encourage them to be involved in productive and income generating activities.
Likewise, Japanese alpinist and Chairman of Seven Summits Actions for Sustainable Society (SSASS) Ken Noguchi, who in 1999 became youngest person at the time to have conquered seven major peaks in the world at the age of 25 , donated $100,000 on behalf of the Japanese public to Nepal to help the families of Sherpas who died in avalanches and other accidents while climbing Mt. Everest. Some of the mountaineering associations in the western countries have taken initiatives to raise fund to help the Sherpas.
According to Todd Burleson, the President and owner of Seattle-based Alpine Ascents International, improvements need to be made to the route up the icefall, which is currently administered by Sherpa teams called Icefall Doctors and managed by Sagarmatha Pollution Control Committee. The Icefall doctors need better training, equipment and skilled staff to make the route safer.
President of International Mountaineers Association (IMA) Gia Tartladze opined that it was a good decision to quit the expedition for this season, but the new course of debate on minimizing risks of the Sherpas and overcrowding on Everest is utmost important for development of mountain tourism in Nepal.
He said that the climbers might choose the easier and less expensive northern route to scale the highest peak if the safety concern is not addressed soon. Some of the experts have stressed on the
need to introduce timely amendment to mountain tourism policy and relevant rules and regulations including royalty of the Himalayas.
Japanese alpinist Ken Noguchi opines that the blanket abandonment of climbing activities on Mt. Everest this season could jeopardize mountaineering in Nepal, and stressed that this should not repeat in future. As foreign mountaineers can't climb the mountains in Nepal without the support of the Sherpas , they should be supported and helped at the time of need for overall development of mountaineering in Nepal, he adds.
At a time when the nation is mourning death of 16 climbers on Everest, an avalanche at 7,300 meters (23,940 feet) has swept three climbers on the slopes of Mount Kanchenjunga, the world's third tallest peak. The climber from India 35-year-old Chanda Gayen, and her guides Temba and Dawa Wanju were attempting to climb Yalung Kang, a sister peak.
As the scientists have warned that Nepal Himalayas are facing problems due to climate change, the need is to find out ways to preserve the mountains. Mountain tourism faces a threat from global warming as melting glaciers can generate deadly disasters like the avalanche on Mount Everest.
According to the International Center for Integrated Mountain Development (ICIMOD) report , rising global temperatures have shrunk the total area of Nepal's glaciers by almost a quarter between 1977 and 2010, with an average of 38 square kilometers vanishing every year. Nepal's total glacier area is decreasing fast, with individual glaciers shrinking, retreating, and fragmenting.
Shannon Stowell, President of the Adventure Travel Trade Association, said that while the recent tragedy dealt a serious blow to the adventure travel community, ultimately the climbing industry will be able to continue in a way that is beneficial to all parties involved. The adventure travel community expects that Everest will be up and running again for the 2015 season.
Mountain tourism experts argue that there is too much commercialization on Everest in recent years. As the government charges $11,000 royalty from every Everest climber , the expedition operators also charge too high from each climber. It is estimated that the expedition operators charge about $40,000 per climber with two Sherpas, making a profit of $2,000-3,000 on each client. In this context, the stakeholders in tourism industry stress on formulating business code of ethics in a move to control unnecessary competition and commercialization on Mt. Everest.
Nepal can learn a lot of lessons from this tragedy to avoid such disasters in future in terms of safety and should be prepared for crisis management in the Himalayas. It is necessary to mitigate problems of environmental and global warming in the Himalayas, so that the tragedy on Everest will not repeat in the years to come.
(The writer is Editor of Online news – Travelbiznews.com and former Editor-in-Chief of Gorkhapatra Daily.)