Travel professionals participate in China – Nepal tourism friendship hiking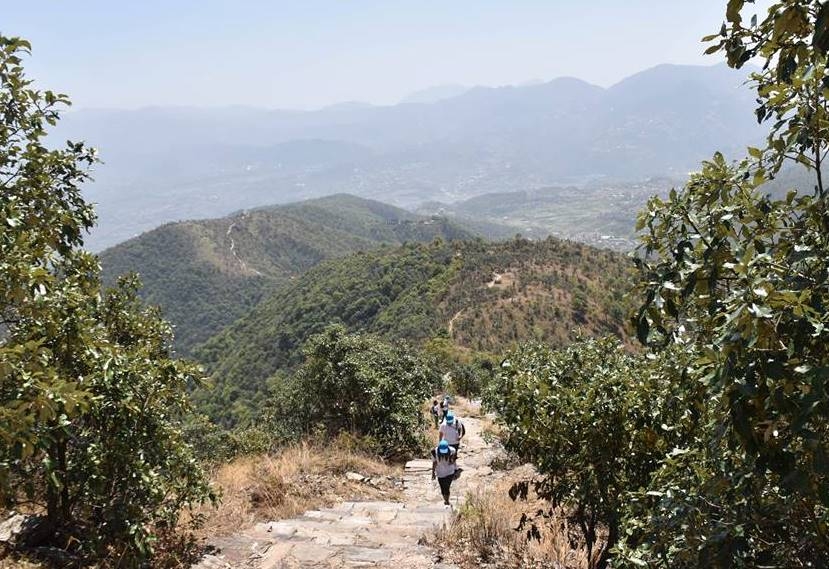 TravelBizNews Report –
Kathmandu: Travel professionals from Nepal and China participated in the "China – Nepal Tourism Friendship Hiking" from Pharping to Champadevi on Saturday.
China – Nepal Tourism Friendship Hiking , organized by China National Tourist Office (CNTO) – Kathmandu in cooperation with Nimi Tours and Travels, aims to deepen and strengthen existing tourism and cultural ties between the two countries.
Champadevi , located in the south-west of Kathmandu, is elevated 2,285 meters above the sea level and is one of the most popular pilgrimage sites in the Hindu and Buddhist religions.
Champadevi hiking starts from the village of Pharping, 19 km south of Kathmandu, on the way to Dakshinkali temple.
Visitors explore the villages with traditional houses, local culture and pine forest besides having amazing views of Kathmandu valley, different mountains and Himalayas from Champadevi.
"China- Nepal Tourism Friendship Hiking will contribute to strengthen cultural and tourism friendship and cooperation between the two countries", said Yang Tsom.
According to Yang Tsom, Director, China National Tourist Office (CNTO) Kathmandu, China is a vast country with varied landscapes and a popular destination for adventure tourism having a variety of hiking and trekking routes all over the country.
'Millions of domestic and international tourists hike and trek different areas of China to explore diverse landscapes, experience natural way of travel and see inaccessible places. Historical heritages, karst hills along the Li River, coastal hiking areas, Great Wall and Yangtze River Hiking are some of the most popular hiking attractions in China', she stated.
Addressing a function organized on the occasion, Asst. Director of CNTO Kathmandu Lakba Tsering said that the hiking would contribute to consolidate tourism cooperation between the two countries.
On the occasion, Chairman of Nimi Tours and Travels Nirajan Tiwari said that Chinese tourists are fond of adventure tourism and visit Annapurna and Everest region for trekking every year besides exploring cities of Kathmandu valley, Pokhara and Chitwan among others.
China National Tourist Office (CNTO), Kathmandu was established in 2001 as one of the overseas offices of the China National Tourism Administration (CNTA). CNTA has 20 overseas tourist offices around the world including Nepal.
More than 50 personalities, representing travel agencies , airlines and organizations from China and Nepal , participated in the China- Nepal tourism friendship hiking organized for the first time by CNTO.
Photos : Nimi Tours and Travels
April 9 , 2017