U.S.international travel up in 2017 , outbound travel 80.2 million last year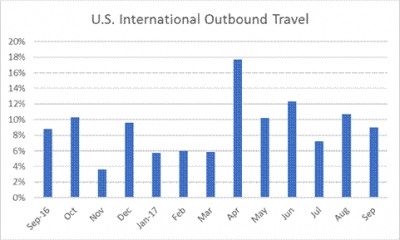 TravelBizNews —
Washington : U.S. travel to overseas markets totaled 2.95 million, up seven percent in September 2017 and 10 percent for the year (29.6 million).
According to International Trade Administration / Department of Commerce, regional results for the month of September 2017 were Europe, 1.676 million travelers, up 17 percent ; Caribbean, 357,000 travelers, down 15 percent ; Asia, 420,000 travelers, up four percent ; Middle East, 158,000 travelers, up two percent ; Central America, 147,000 travelers, up one percent ;South America, 119,000 travelers, down eight percent ;Oceania, 48,000 travelers ; and Africa, 30,000 travelers, up four percent .
Likewise, U.S. travel to other North American markets totaled 3.886 million and was up 11 percent compared to September 2016. Travel to Canada and Mexico for the year (37.1 million) was up nine percent.
Mexico, 2.4 million travelers, up 16 percent in September. Air travel (467,000) was up four percent. Border 1+ nights up 23 percent and 'Tourist' (longer haul) travel up eight percent.Canada, 1.46 million travelers, was up three percent.
U.S. Travel to International Destinations increased eight percent in 2016
The U.S. resident outbound market totaled a record 80.2 million in 2016, up eight percent from 2015. This is the fifth straight year of increases in U.S. travel abroad, with significant growth occurring in the last three years according to a statement issued recently .
Travel to overseas countries (35.1 million) increased seven percent; also setting a record (overseas includes all countries except Canada & Mexico).
The top two destinations for U.S. international travelers were Mexico and Canada. Travel to Mexico (31.2 million), more than twice the size of the next largest outbound market, was up nine percent, marking a new record for the fourth straight year. Mexico now holds a 39 percent market share of all U.S. outbound travel. U.S. travel to Canada (13.9 million) was up 10 percent. Combined, Canada and Mexico's ('other' North America) market share of the 80 million U.S. visits was 56 percent, the highest share since 2004.
The top five destination countries visited by U.S. residents in 2016 were: Mexico(31.2 million) and Canada (13.9 million), followed by the overseas countries of the United Kingdom (3.2 million), Dominican Republic (2.7 million) and Italy (2.2 million). Seven of the top 10 destinations visited by U.S. travelers posted increases in 2016. Among the top 10 destinations for U.S. travelers, the countries posting the largest growth over the previous year were the U.K. and Germany (both 11 percent), Canada (10 percent) and Mexico and Italy (both nine percent).
For detailed information :http://travel.trade.gov/
Dec.2017