Union of Asian Alpine Associations (UAAA) celebrates 20th anniversary in Hiroshima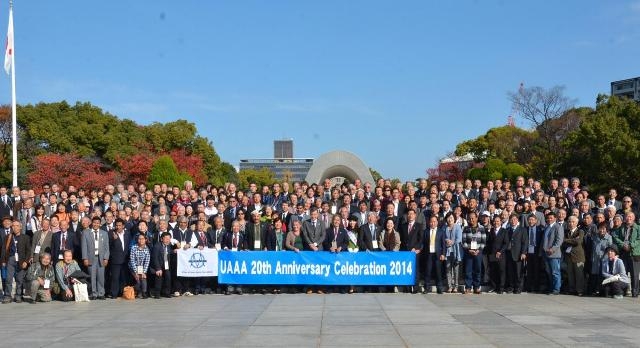 Hiroshima :The Union of Asian Alpine Associations (UAAA) celebrated its 20th anniversary along with Annual General Assembly in Hiroshima Japan recently.
In a message celebrating the 20th anniversary of the body, In-Jeong Lee, President of the Korean Alpine Federation (KAF) said the group had come a long ways and played a crucial role in strengthening the diversity of the UIAA – International Climbing and Mountaineering Federation."The UAAA has become like a family, experiencing and sharing happy and tragic things alike since its foundation in 1994."
"Our recent increase in new memberships since last year has helped our organization to expand and become firmer," said Lee. "We owe the past twenty years of achievements to the constant participation and interest of all of our members."
Among the achievements of the UAAA that he listed included the cooperation which resulted in the construction of an International Mountain Museum in Nepal and cultural exchanges which have deepened with greater opportunities for discussion about activities such as nature protection, prevention and counter high mountain climbing accidents, rescue training, promoting mountain climbing to the youths, promoting and planning Asian joint expedition and competition.
"Let's make the next 20 years better with our great history of the past two decades," Lee continued. "Time seems to fly by so fast, and it has already been 20 years since the UAAA was founded. Celebrating today's 20thanniversary is certainly an inspiring day, without a doubt."
Christine Pae of the KAF said delegates visited the Peace Park in Hiroshima where they renewed their pledge to "extend our gratitude and reverence to mountains" and "work with our best efforts to reduce strain on mountain areas and to preserve their environment."
Earlier this year, the UAAA organised a joint expedition to UAAA Peak (6476m) in Nepal and a rescue training session in Mt. Tanigawa in Japan.
The organisation consists of 16 member federations from 12 countries with key officials including Secretary General Christine Pae (KAF – Korea), Treasurer I-Yuang Hwag (CTMA – Taiwan), Vice-President Zimba Zangbu Sherpa (NMA -Nepal ), Vice-President Mahmoud Shoaei (IMSCF – Iran) and Vice-president Jin'an Yan (CMA – China).
UAAA members represent federations in China, Korea, Hong Kong, Japan, Kazakhstan, Nepal, Pakistan, Taiwan, India, Kyrgyzstan, Iran, Mongolia and Bangladesh.
Honorary UIAA Member Kazuo Saito of the Japan Mountaineering Association initiated the establishment of the UAAA in 1993 to promote climbing in Asia and the UIAAs regional activities.
UIAA was represented at the assembly by its President Frits Vrijlandt according to International Climbing and Mountaineering Federation.
Nov. 2014