UIAA opposes construction of permanent structures on Mt. Everest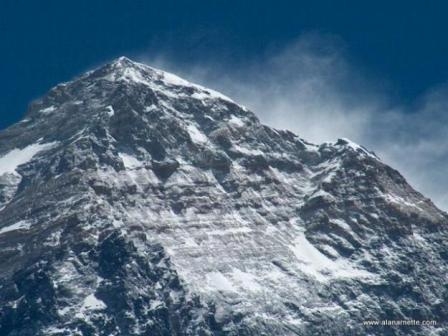 Travel BizNews ——————————-
Arizona , USA: Member federations of the UIAA – International Climbing and Mountaineering Federation voted today at their annual General Assembly against the construction of permanent structures to aid those who want to climb Mount Everest.
A growing number of people from around the world continue to attempt to climb Mount Everest, the world's highest mountain and accidents on the mountain, often resulting in multiple deaths of both climbers and the Sherpas who guide them, have brought urgent attention to the issue of overcrowding.
The Government of Nepal recently floated the idea of the installation of steel ladders and fixed ropes on the "Hillary Step" to ease congestion on the route to the summit. The Hillary Step is an imposing 12 m (39 ft) rock wall situated at 8,760 m (28,740 ft), and the final challenge, before the summit.
According to UIAA , the text states ; ' As one of the most iconic landmarks of the world, Mount Everest belongs to all of mankind. Thus , the ascent of this magnificent mountain should be reserved to those who acquired the skills and the experience needed to reach the highest point of the world.Therefore, the UIAA does not support the addition of permanent structures to the ascent routes, as this would lessen the value of the achievement, spoil the adventure and encourage the abuse of this sacred place we call Mount Everest.'
UIAA president Frits Vrijlandt said the ultimate decision on whether to install a permanent structure near the summit rests with the Nepalese government.
"Everest is a World Heritage Site and is therefore of universal importance, not just to the people of Nepal but the whole world," said UIAA president Frits Vrijlandt. "The UIAA – International Climbing and Mountaineering Federation statement represents the views of climbers and mountaineers from around the world who have strong affection and respect for the world's highest mountain, and which we hope the Nepalese government will consider."
The UIAA General Assembly voted to make Tamotsu (Tom) Nakamura, a long-time member of the Japanese Alpine Club and Honorary Member.
During the 2014 UIAA General Assembly , members also awarded climber and mountaineer Steve House the UIAA Achievement Award.
The UIAA was founded in 1932 and has a global presence on five continents with 80 member associations in 50 countries representing about 3 million people.
October 18, 2014