UN Chief calls to back ambitious action on climate change for future generations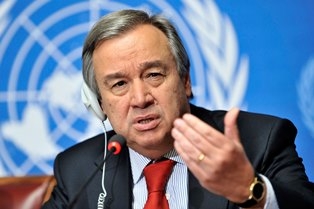 TravelBizNews Online —
New York: United Nations Secretary General António Guterres called for sustained action to meet the global challenge and to ensure a peaceful and sustainable future for all.
"The effects of climate change are dangerous and they are accelerating," Secretary-General Guterres told a gathering at the New York University Stern School of Business.
"It is absolutely essential that the world implements the Paris Agreement on climate change – and that we fulfil that duty with increased ambition," he underscored, recalling the ground breaking agreement that entered into force last November.
The Agreement calls on countries to combat climate change and to accelerate and intensify the actions and investments needed for a sustainable low carbon future, and to adapt to the increasing impacts of climate change.
"Countries and communities everywhere are facing pressures that are being exacerbated by megatrends, like population growth, rapid and many times chaotic urbanization, food insecurity, water scarcity, massive movements of population and migration… the list can go on and on," he said .
'Climate change is a direct threat in itself and a multiplier of many other threats, from poverty to displacement to conflict. The effects of climate change are already being felt around the world. They are dangerous and they are accelerating.'
'Human influence on the climate system is clear. The more we disrupt our climate, the more we risk severe, pervasive and irreversible impacts,'" he said, recalling that global temperatures have been rising, year after year, and that that last year was the hottest on record.
"Every geophysical system on which we depend is being affected, from mountains to oceans, from icecaps to forests, and across all the arable lands that provide our food."
"Sea ice is at a historic low; sea levels are at a historic high, threatening the existence of low-lying island nations and cities. The seas are also being affected by warmer temperatures, rapid acidification and coral bleaching, endangering the marine food chain on which so many livelihoods and economies depend. On land, glaciers are retreating almost everywhere — a risk to the breadbaskets of the world as rivers fed by glaciers run dry. Soon the famous snows of Kilimanjaro will exist only in stories."
"The ice caps in the Arctic Ocean are shrinking dramatically. Some even predict that the Arctic Ocean could be ice-free by the summer of 2020. That would be catastrophic for Arctic wildlife. It would be a death-blow to the ways of life of indigenous peoples. And it would be a disaster for the world," he said.
Furthermore, there are fears that the melt of sea ice and glaciers due to rising temperatures will have deep and far reaching impact: droughts and dry spells will last longer, while natural disasters like floods and hurricanes will be even more destructive.
Impacts of these catastrophic events, Mr. Guterres noted, would be felt in all corners of the world and in all sectors of the economy.
Laying out a five-point action plan to mobilize the world for climate action, the UN chief underscored that he will intensify political engagement with countries to increase efforts to limit temperature rise to well below 2 degree-Celsius and as close as possible to 1.5 degree-Celsius, the first point.
He also said that he would engage more with Governments and major actors, including the coal, oil and gas industries, to accelerate the global transition to sustainable energy, and committed stronger support by the entire UN development system to Governments as they strive to meet climate commitments and achieve the 2030 Agenda for Sustainable Development and
the Sustainable Development Goals (SDGs), especially at the country level.
The UN chief also said that he will work to with UN Member States mobilize national and international resources for adaptation, resilience, and the implementation of national climate action plans, and called for new and strengthened partnerships, including with the private sector and through North-South, South-South and triangular cooperation.
Further in his remarks, the Secretary-General cautioned that failure to act on combatting climate change would in turn harm the countries themselves for their inaction.
"Those who fail to bet on the green economy will be living in a grey future [but] those who embrace green technologies will set the gold standard for economic leadership in the twenty-first century."
May 30 ,2017