UNWTO saddened by the tragic effects of hurricane Irma , 22nd General Assembly in China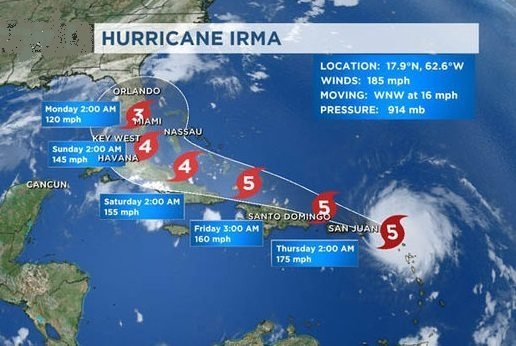 TravelBizNews —
Madrid: UN World Tourism Organization is deeply saddened by the tragic effects brought by hurricane Irma across the Caribbean.
UNWTO is conveying a special meeting to address the impacts of hurricane Irma and the way forward on the occasion of its 22nd General Assembly taking place next week in China.
The bi-annual event, to be held in Chengdu, China on 11-16 September, will discuss how to advance the contribution of tourism to the Sustainable Development Goals (SDGs) and define the actions of the Organization for the period 2018-2019.
A high-level debate on tourism and the SDGs, a special session on smart tourism, the celebrations of the International Year of Sustainable Tourism for Development 2017, the conversion of the UNWTO Global Code of Ethics into an international Convention and current trends of the tourism sector are all integrated into the agenda of the 22nd session of the UNWTO General Assembly.
The Assembly will also discuss the lines of action and key priorities of the Organization for the two coming years according to a statement issued by UNWTO. The Assembly is expected to gather over 1000 participants from around the world.
The 22nd session of the General Assembly is the second hosted in China and the fourth in Asia and the Pacific.
"China is not only the world's fourth most-visited country and the first outbound market in the world; it is also an example of a country prioritizing tourism as a driver for development. The efforts of Chinese authorities to define tourism as a strategic pillar of the national economy and an effective development tool make China a fitting host for this UNWTO General Assembly", said UNWTO Secretary-General, Taleb Rifai.
"On behalf of the international tourism community, UNWTO conveys its heartfelt condolences to the families and friends of the victims and stands ready to support the affected countries, where tourism is a pillar in the lives of so many people, to recover as swiftly as possible" said Rifai.
"UNWTO will work alongside the affected countries in all the necessary measures to support them and trust that as in previous occasion the people of these countries will show their resilience as life gets back to normal and they open for business".
Meanwhile, hurricane Irma is lashing Cuba with strong winds and heavy rain after devastating several Caribbean islands according to BBC.
In Florida, 5.6 million people, or 25% of the US state's population, have been told to leave as the storm approaches. At least 20 people are known to have died so far across the Caribbean.
This is the first time a category five hurricane has hit Cuba in decades. Irma had maximum sustained winds of 257km/h , the National Hurricane Center in the US said.
Sept.9 , 2017