UNWTO Tourism Ministers Summit to discuss on safe travel issues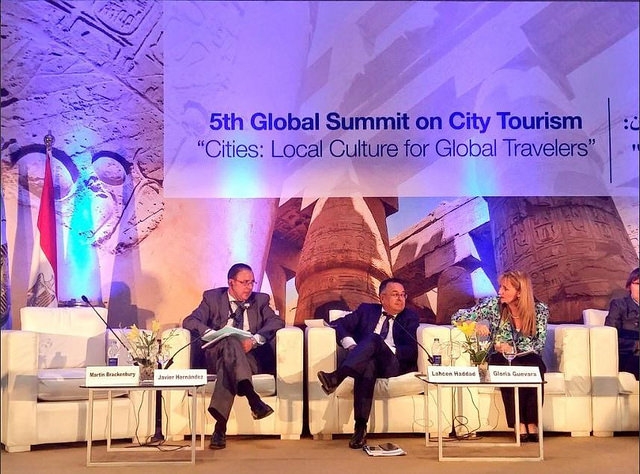 TravelBizNews —
London : Minister of Tourism from over 50 countries and leaders from the private sector companies and associations will convene at the Ministers Summit organized by the World Tourism Organization (UNWTO) and the World Travel Market in London, to discuss safe, secure and seamless travel.
The 10th edition of the Minister Summit to be held on 9 November under the title 'Tourism and Security: Promoting Safe and Seamless Travel,' will address the major safety and security challenges that the sector faces, ways of cooperation and effective crisis preparedness and management.
As stated by UNWTO Secretary-General Taleb Rifai, "safety and security are key pillars of tourism development and we need to strengthen our common action to build a safe, secure and seamless travel framework. I trust this Summit will help us move forward on this important common challenge as we work to ensure that safety and security can go hand in hand with promoting a seamless travel experience."
World Travel Market London Senior Director, Simon Press, said: "Safe and Seamless travel is the key topic for all those involved in global travel and tourism. All the speakers at this year's summit have direct experience of the impact of terrorism and the fight to keep nations, citizens and tourists safe. I look forward to a thought-provoking and productive discussion".
Urban planning and city tourism need to go "hand in hand", concludes UNWTO Summit
Meanwhile , the 5th UNWTO City Tourism Summit in Luxor, Egypt gathered around 400 experts from 40 countries to discuss the theme 'Cities: Local culture for a global traveler'.
The event, organized by the World Tourism Organization (UNWTO) and the Ministry of Tourism of Egypt, concluded on the importance of ensuring urban planning and city tourism development are fully coordinated. Authenticity, local culture, the engagement of local communities and the use of technology were pointed out as key success factors for city tourism.
Participants discussed city tourism trends including new business models, such as the so-called "sharing economy", the importance of millennials, emerging niche markets, how to build authentic cultural experiences and engage local communities, safety and security, and congestion management.
The Minister of Antiquities of Egypt, Khaled El-Enany, Minister of Tourism Mohamed Yehia Rashed, Governor of Luxor Mohamed Sayed Badr, the Assistant Minister of Foreign Affairs for International Organizations of Egypt, Hisham Badr, UNWTO Secretary-General Taleb Rifai and the President and CEO of the World Travel and Tourism Council (WTTC), David Scowsill, addressed the meeting.
UNWTO Secretary-General Taleb Rifai expressed the Organization's full confidence in Egypt's tourism recovery, recalling that holding such an important meeting in Luxor displays the trust of the international tourism community in the destination.
Participants also stressed the need to maximize the resources generated by tourism for heritage preservation and renovation, the roles of gastronomy and creative culture in attracting and engaging tourists; and how the 270 million young travelers of today demand new authentic products and connectivity twenty-four seven.
During the Summit, UNWTO presented its City Tourism Network Action Plan as well as a new initiative – 'Mayors for Tourism' – that will see mayors and cities' decision-makers collaborate on tourism issues.
The 6th UNWTO Global Summit on City Tourism will take place in Kuala Lumpur, Malaysia, in December 2017.
Nov. 2016