UNWTO, WTTC, IATA, PATA express deep concern over US President Trump's order on travel ban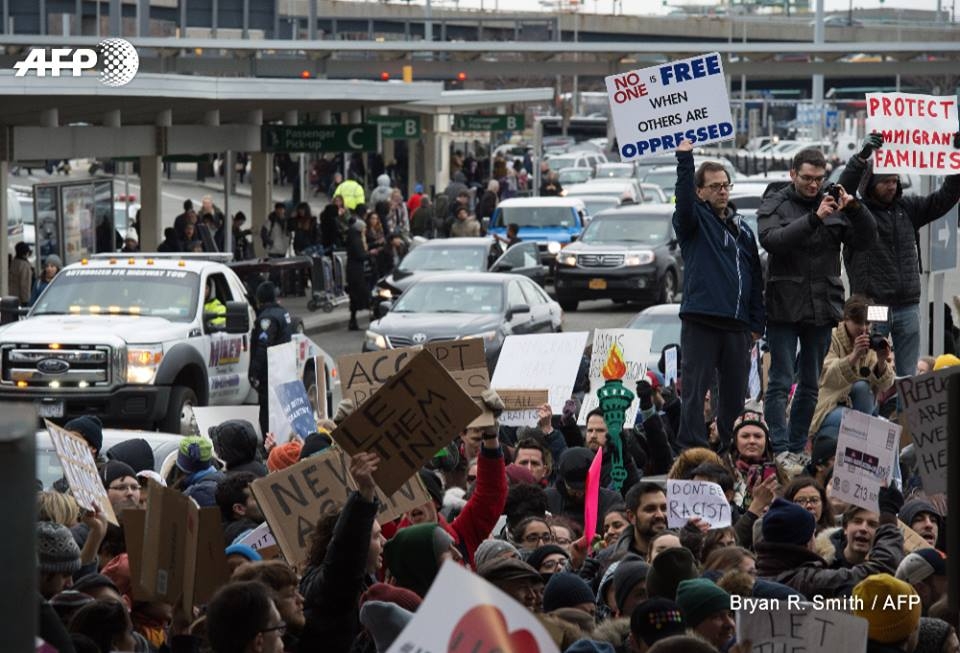 TravelBizNews —-
Madrid/ London/Geneva / Bangkok: International organizations related to travel, tourism and aviation have expressed deep concern and condemnation over the recently announced travel ban by the United States of America to nationals of seven countries.
United Nations specialized agency for Tourism – World Tourism Organization (UNWTO) has expressed its deep concern and strong condemnation over the recently announced travel ban by the USA to nationals of seven countries -Iraq, Syria, Iran, Sudan, Libya, Somalia and Yemen.
"The travel ban, based on nationality, is contrary to the principles of freedom of travel and travel facilitation promoted by the international tourism community and will hinder the immense benefits of the tourism sector brings in terms of economic growth and job creation to many countries, including the USA," reads a statement issued by UNWTO.
UNWTO Secretary-General, Taleb Rifai said , "Global challenges demand global solutions and the security challenges that we face today should not prompt us to build new walls; on the contrary, isolationism and blind discriminatory actions will not lead to increased security but rather to growing tensions and threats".
"Besides the direct impact, the image of a country which imposes travel bans in such a hostile way will surely be affected among visitors from all over the world and risk dumping travel demand to the USA" added Rifai.
WTTC comment on President Trump's executive order
WTTC believes that all people have the right to cross international borders safely and efficiently for business and tourism purposes.
"The blanket suspension of admittance of travellers from Iran, Iraq, Libya, Sudan, Somalia, Syria, and Yemen to the US flies against this principle. Suspending travel based only on a person's nationality or their origin is wrong," WTTC said.
David Scowsill, President and CEO, World Travel & Tourism Council (WTTC), said: "The Executive Order issued by US President Trump on 27 January 2017 banning travel to the US from seven countries for 90 days goes directly against the fundamental right of Freedom to Travel. It has created immense confusion among travellers and travel companies worldwide."
The WTTC said that many travellers have been unnecessarily disrupted, due to the unclear nature of the Executive Order, coupled with a lack of prior consultation and poor communication to airlines and border officials.
"If this move by the Trump Administration is designed to 'prevent infiltration by foreign terrorists or criminals', it is important to point out that the vast majority of terrorist attacks in the recent past have been perpetrated by home grown, radicalised nationals of the country involved. None of the shocking domestic incidents in the US since 2001 have been attributed to external terrorists who have specifically flown into the country to commit an atrocity."
Preventing 'aliens' from entering the US for legitimate business or leisure purposes is misguided and counter-productive for the American economy.
"Travel & Tourism bridges divides between cultures, fosters understanding across religious and geographic boundaries, and generates more peaceful co-existence. Our sector is responsible for the livelihoods of millions worldwide. The US has suffered in the past from similar isolationist policies."
WTTC has urged the Trump Administration to reconsider this ban.
IATA statement on US Executive Order on Travel
The International Air Transport Association (IATA) works with its 265 member airlines for safe, secure, efficient and sustainable global air transport links. As a matter of principle we work for the free movement of trade and people across borders.
"IATA also recognizes that states have the right and duty to protect their citizens by enforcing their borders. Where this has implications for air travel, we work with our member airlines to help them comply with these requirements efficiently and effectively. Global systems and procedures exist to support this activity. IATA's Timatic online solution, for example, is a global database for travel document requirements. It is updated constantly and used by airlines and travel agents around the world."
These systems can only support the efficient implementation of any government's directives by the global air transport industry with advance coordination as well as with detailed and consistent operational information.
Entry requirements for the United States were changed significantly and immediately by an Executive Order (EO) issued 27 January 2017. The EO was issued without prior coordination or warning, causing confusion among both airlines and travelers. It also placed additional burdens on airlines to comply with unclear requirements, to bear implementation costs and to face potential penalties for non-compliance.
"We ask for early clarity from the US administration on the current situation. Moreover, we urge all governments to provide sufficient advance coordination of changes in entry requirements so that travelers can clearly understand them and airlines can efficiently implement them.," IATA said.
PATA reiterates its commitment to the right to travel
The Pacific Asia Travel Association (PATA) reiterates its commitment to the right to travel as stated in Article 13 of the Universal Declaration of Human Rights.
The Association recognises that each country has the responsibility to ensure the safety and security of its citizens. However, PATA is fundamentally opposed to any form of blanket travel ban based upon nationality, gender, race or religion.
PATA CEO Dr. Mario Hardy said, "Safety is the number one priority for the travel and tourism industry and this may only be addressed effectively through the concerted efforts of the world's governments and international community working together.
The travel and tourism industry accounts for nearly 10 percent of worldwide GDP. It is an industry that provides vital income and employment to local communities worldwide whilst creating a pathway towards understanding and empathy across borders and cultures.
The recent Executive Order in the USA goes against the principles of this idea. In the end, the actions in the USA may tarnish the image of the country and risks impacting its tourism arrivals. The lack of clarity around the implications of this Executive Order has created chaos in airports and is affecting travel businesses such as airlines, tour operators, hotels and travel agencies around the world.
"The Association has been advocating improved visa facilitation for some time and last year we praised the Republic of Indonesia for its vision in easing access to the nation's many attractions for tourists from 169 countries. Governments must build bridges, not walls, and we encourage all nations to work in harmony and unison to ensure that this vital industry remains profitable and sustainable for the benefit of all."
January 31 , 2017