US President Trump orders 90-day ban on travel to the U.S., suspended the U.S. refugee program for four months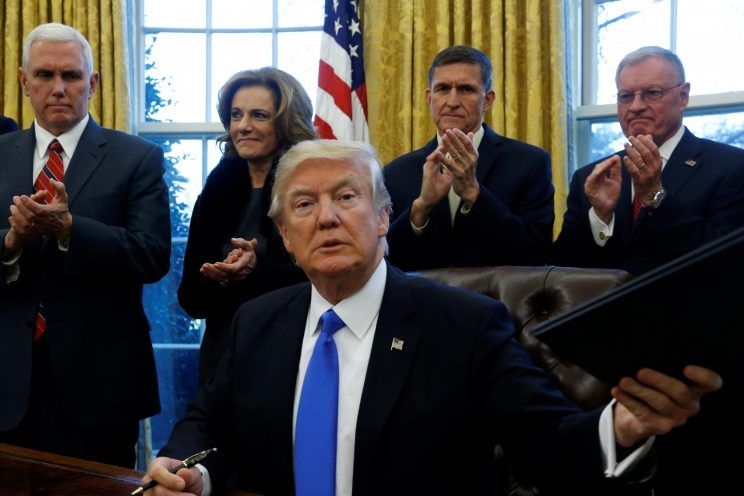 Washington ( AP) – The US Homeland Security Department says a New York court order temporarily barring the U.S. from deporting people from nations subject to President Donald Trump's travel ban will not affect the overall implementation of the White House executive action.
The agency said the court order affected a relatively small number of travelers who were inconvenienced by security procedures upon their return.
"President Trump's Executive Orders remain in place-prohibited travel will remain prohibited, and the U.S. government retains its right to revoke visas at any time if required for national security or public safety," according to the DHS statement.
US President Donald Trump's order Friday barred citizens of seven Muslim-majority nations from entering the United States for 90 days. That meant that even those with permanent residency "green cards" or other visas risked not being let back in to the United States.
However, the official said all green card holders from the seven countries who sought to enter the U.S. Saturday were granted special permission.
U.S. District Judge Ann Donnelly issued the order Saturday evening after lawyers for the American Civil Liberties Union filed a court petition on behalf of people from seven predominantly Muslim nations who were detained at airports across the country as the ban took effect.
President Donald Trump says his crackdown on refugees and citizens from seven majority-Muslim countries "is not a Muslim ban." A day after signing an executive order implementing the ban immediately, Trump says it's "working out very nicely."
Included is a 90-day ban on travel to the U.S. by citizens of Iraq, Syria, Iran, Sudan, Libya, Somalia and Yemen. The U.S. refugee program is suspended for 120-days.
Trump's order imposed the most aggressive ban on Syrians, indefinitely blocking entry to the U.S. by anyone from that country, including those fleeing civil war.
Airlines around the world are turning away passengers, refunding tickets and rebooking flights in the aftermath of President Donald Trump's immigration order.
Qatar Airways is advising passengers bound for the United States from seven newly banned majority Muslim countries that they need to have either a U.S. green card or diplomatic visa to travel.
A statement on the company's website says: "Nationals of the following countries: Sudan, Libya, Somalia, Syria, Iran, Iraq, Yemen … may travel to the U.S. only if they are in possession of a permanent resident card (Green card) or any of the below visas."
The International Rescue Committee is calling President Donald Trump's suspension of the U.S. refugee resettlement program a "harmful and hasty" decision.
In a statement issued late Friday night after the suspension was announced, IRC President David Miliband said, "America must remain true to its core values. America must remain a beacon of hope."
Meanwhile , Canadian Prime Minister Justin Trudeau tweeted Saturday "To those fleeing persecution, terror & war, Canadians will welcome you, regardless of your faith. Diversity is our strength #WelcomeToCanada ." Trudeau oversaw the arrival of more than 39,000 Syrian refugees soon after he was elected in late 2015.
The young prime minister has been reluctant to criticize President Donald Trump. His government has been trying to balance his liberal view of the world while not offending the new Trump administration.More than 75 percent of Canada's exports are to the U.S.
January 29 , 2017