US President Trump orders work to build 3200 km wall on the Mexican border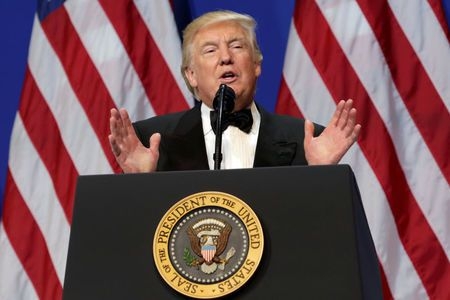 Washington (AFP / AP) – President Donald Trump ordered work to begin on planning and building a wall on the Mexican border, sounding a hardline tone on immigration as he moved to fulfill a key campaign pledge.
The US leader instructed officials to begin to "plan, design and construct a physical wall along the southern border" and -perhaps more problematically -see how it could be funded.
"A nation without borders is not a nation," Trump said, echoing former president Ronald Reagan, as he visited the Department of Homeland Security to sign two executive orders.
"Beginning today, the United States of America gets back control of its borders," the Republican president said.
Stemming immigration was a central plank of Trump's election campaign.
His signature policy prescription was to build a wall across the 2,000-mile (3,200-kilometer) border between the United States and Mexico.
Some of the border is already fenced, but Trump says a wall is needed to stop illegal immigrants entering from Latin America.
The policy has become a clarion call for the US right and far-right — the core of Trump's support.
Trump also ordered a survey of the border to be completed within 180 days.
Much of the land needed to build the wall would have to be seized from private citizens in Texas, the state of Texas or tribal authorities. That could lead to lengthy legal proceedings, political blowback and substantial expropriation payments.
Trump has promised to make Mexico pay for the wall, something the Mexican government has repeatedly said it will not do.
Trump aides have weighed hiking border tariffs or border transit costs as one way to "make Mexico pay."
Another threat is to finance the wall by tapping into remittances that Mexican migrants send home, which last year amounted to $25 billion.
Trump is also said to be floating the idea of a ban on refugees from Muslim-majority countries, including Syria. Around 4.8 million Syrians have fled to neighboring countries alone, according to the United Nations. An estimated 18,000 Syrians have come to the United States.
AP adds –
Determined to wall off America's border with Mexico, President Donald Trump triggered a diplomatic clash and a fresh fight over trade Thursday as the White House proposed a 20 percent tax on imports from the key U.S. ally and Mexican President Enrique Pena Nieto abruptly scrapped next week's trip to Washington.
The U.S. and Mexico conduct some $1.6 billion a day in cross-border trade, and cooperate on everything from migration to anti-drug enforcement to major environmental issues.
At the heart of the dispute is Trump's insistence that Mexico will pay for construction of the massive wall he has promised along the southern U.S. border.
The plan was a centerpiece of Trump's election campaign, though he never specified how Mexico would fund the project or how he would compel payments if Pena Nieto's government refused.
The two leaders had been scheduled to discuss the matter at the White House next week. But Pena Nieto took to Twitter Thursday to say he had informed the White House he would not be coming.
Trump's spokesman told reporters the president was considering the 20 percent import tax to foot the bill, the most specific proposal Trump has ever floated for how to cover a project estimated to cost between $12 billion and $15 billion.
A 20 percent tariff would represent a huge tax increase on imports to the U.S., raising the likelihood of costs being passed on to consumers. Half of all non-agricultural goods enter the U.S. duty free, according to the office of the U.S. Trade Representative. The other half face import tariffs averaging 2 percent.
Mexico is one of America's biggest trade partners, and the U.S. is the No. 1 buyer from that country, accounting for about 80 percent of Mexican exports.
A complete rupture in ties could be damaging to the U.S. economy and disastrous for Mexico's. And major harm to Mexico's economy would surely spur more people to risk deportation, jail or even death to somehow cross the border to the U.S. – undercutting Trump's major goal of stopping illegal immigration.
Jan. 27 , 2017